You have a couple more days to bring in non-perishable food for the Akron-Canton Regional Foodbank !!! This is an organization that supplies food for the Alliance Community Pantry which feeds many in the community. Bring your food to any ACS building by April 26.

The Early Childhood Education Alliance does much to help young children in the Alliance area be prepared for kindergarten. Here is an opportunity to have some fun, buy some student art, and support ECEA in their efforts for our students.
https://www.alliancecityschools.org/article/46826

Looks like wings for dinner this weekend: Saturday you can eat at Buffalo Wild Wings to support the Music Department. Sunday you can see Parkway staff and students shave their heads after reaching their fund raising goal for St. Baldrick's Foundation. Donate here:
https://www.stbaldricks.org/teams/parkwayelementary

If you missed the show today, it's ok. There are performances of Willy Wonka the musical throughout the weekend. Purchase your tickets here:
https://singingaviators.ludus.com

Elementary students just got done watching the first performance of Willy Wonka the Musical! It was full of magic and talent of students in preschool through 12th grade!

Do you know a kid that could use a birthday party? The YMCA is hosting the party of all parties for kids of any age. RSVP by April 26. Call the YMCA at 330-823-1930 for more info. #Acspresents

Northside: Spring Pictures are this Friday, April 20th. Order forms went home this past week. Call the school if you have any questions.

Northside Intermediate welcomes Cockrill's Studio on Friday April 20th for Spring Pictures! Order forms are coming today, please call the office with any questions.

A reminder to fifth grade families that sign-up sheets for sixth grade band, choir, and orchestra are to be returned by this Friday, March 23 to students' homeroom teachers. The music teachers at AMS are looking forward to having your students in their performing ensembles!

Great job to all the students who competed in the Math Tournament over the weekend! 1st Row: Cade Blatt, Shaylie Miller, Caden Vernon, Andrew Chunat, Rylan Thomas, Jordan Schwartz, Seth Dillon, Sam Gress, McKaela Schoolcraft 2nd Row:Kaitlyn Bondoni,Caden Monk, Kevin Frazier, Kaia Canavan, Lydia Clair, Jenna Heslop, Avery Horning, Apollo Prince, Athena Friend,Thayer Fontana,Ian Sherer, Richard Kelly 3rd Row: Julia Aldea, Gabby Hill,Gracie Weaver, Elizabeth Recchuiti, Kylie Habba, Jillian Lohnes, Anna Eversdyke, Caroline Reich, Brenden Zurbrugg, Luciano Maldonado 4th Row: LaRon Nicholson, Lawrence Lin, Cylus Ford, Rylee Horning, Neveah Russell, Lily Walker, Mackenzie Heslop, Jayson Reed Trophies: From Left to Right Andrew Chunat 1st place in 5th Grade Mental Computation Rylan Thomas 2nd place in 7th Grade Algebra Jordan Schwartz 2nd place in Advanced Algebra Seth Dillon 1st place in 6th Grade Algebra Sam Gress 1st place in 6th Grade Mental Computation and McKaela Schoolcraft- 1st place in 5th Grade Geometry and Measurement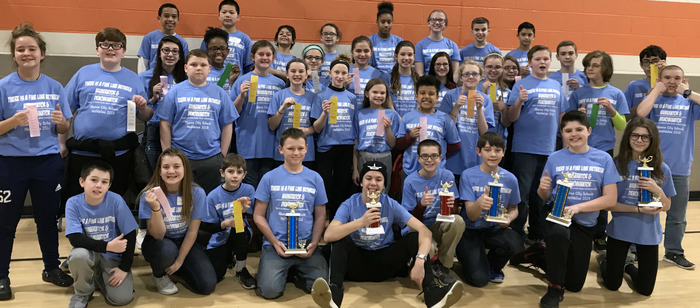 Due to the dangerously cold temperatures anticipated for tomorrow, Alliance City Schools will not be in session on Friday, January 5, 2018.

Alliance City Schools are closed today, December 14, due to inclement weather.

A winter coat giveaway for students will take place at the Alliance Community Center on Nov. 16 from 4-6 p.m. Donations of new or gently used coats can be dropped off at any ACS building by Nov. 15.

NIS parents. Please remember that the 5th grade promotion ceremony has been moved to the AHS gymnasium. The ceremony is still Friday at noon.

Due to the inclement weather, Alliance City Schools will be closed Today, Wednesday March 15th, 2017. Alliance Career Center Adult Education day and evening classes are in session.

Due to current and predicted inclement weather, Alliance City Schools will be closed Today, Tuesday January 10th 2017. Alliance Career Center Adult Education day and evening classes are in session.

Family Game Night at Northside until 7pm! Join us tonight for board games, refreshments, a raffle and FREE BOOKS! #Northside #AllianceCitySchools

The Alliance City Health Department provides immunizations to the following VFC eligible children: -Children who do not have any form of health insurance -Children who have one of the Medicaid Insurances: CareSource, Buckeye, United Healthcare Community, Molina or Paramount -Children who are Under-Insured (parent must provide insurance documentation of under –insured status) Cost is $20 per immunization; sliding fee scale is available. Shots are free with an eligible Medicaid card (see list above). Parents must bring insurance card and shot record to the appointment. Child must be accompanied by a parent/legal guardian. No child who is VFC eligible will be turned away due to inability to pay. All Immunization clinics are by appointment only. Please call 330-821-7373 X 20. Monday 1pm-3:45pm Tuesday 1pm-3:45pm; late clinics are held the First and Third Tuesdays of each month 2pm-5:30pm Thursday 1pm-3:45pm (at least up through September and possibly October if needed) Friday 8:45am-10-45am

The 2016-2017 school year starts tomorrow! We can't wait to see everyone in the morning.

Northside Intermediate will have 4th & 5th grade Orientation tomorrow night from 5 - 7pm. We look forward to the start of the school year!
Parents: don't forget to take advantage of the Ohio sales tax holiday for school supplies and clothes. Aug 5, 6, and 7!