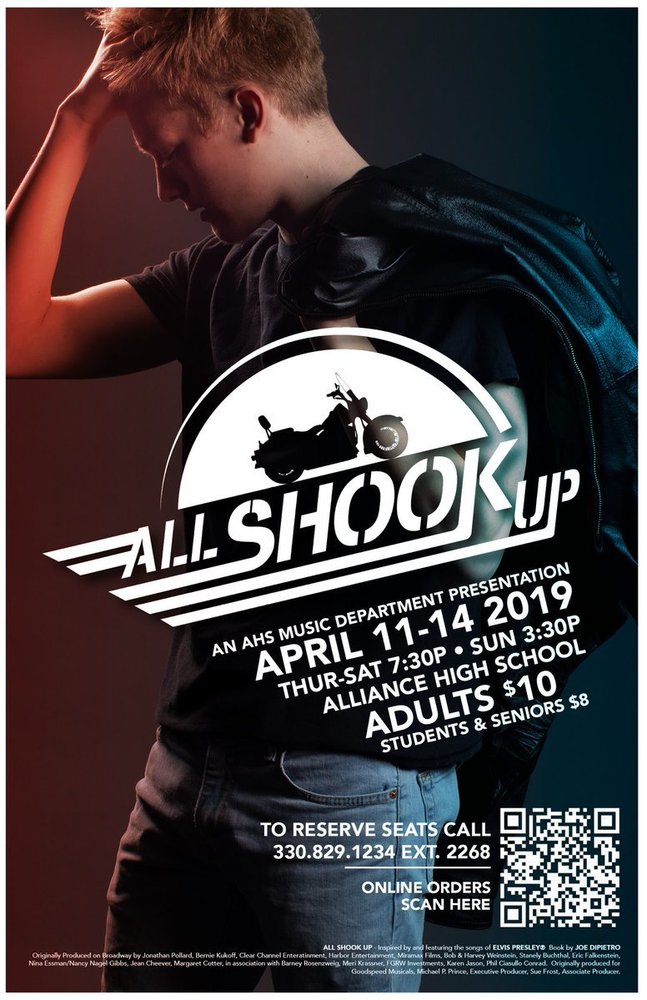 AHS is "All Shook Up"
Cheyanne Gonzales
Friday, April 05, 2019
Alliance High School is set to perform the iconic songs of the King in the musical "All Shook Up" featuring songs by Elvis Presley.
The performance will feature senior Rachael Wagner at Natalie Haller and junior Ryan McKnight as Chad. Set in the 1950s Chad shows up in town leading to it becoming "All Shook Up."
"This show has been a lot of fun to put together," said Carrie Chunat, choir teacher at AHS and director of the musical. "The music is so fun, and there has been lots of opportunity for choreography, more than other shows we've done in the past. I feel like my students are really strong in the area of dancing and singing right now, and I'm glad that this show will showcase the talents that they have."
The remaining cast members will include DeSean Hollins at Jim Haller, Kiera Hairston as Sylvia, Unikka Threats as Lorraine, Tommy Gress as Dennis, Savannah Heller as Miss Sandra, Matthew Eversdyke as Dean, Stefan Thalacker as Sheriff Earl, Katie Blake as Mayor Matilda Hyde and Racquel Johns as Henrietta. To complete the show, there will be a dance ensemble, chorus, stage crew and a pit orchestra.
"The music is so familiar and fun and the story line is so comical," Chunat said. "The students are doing an excellent job of fitting into their roles and their acting skills will really shine on stage."
The set for the musical is being designed by construction trade teacher Brian Swank and his students.
The Performances are set for Apr. 11-13 at 7:30 p.m. with a matinee performance on Apr. 14 at 3:30 p.m. All performance will take place in the auditorium at AHS. Tickets can be purchased in advance by visiting https://singingaviators.ludus.com/index.php. Tickets are $8 for students, $10 for adults and $8 for senior citizens. Tickets will also be available at the door.