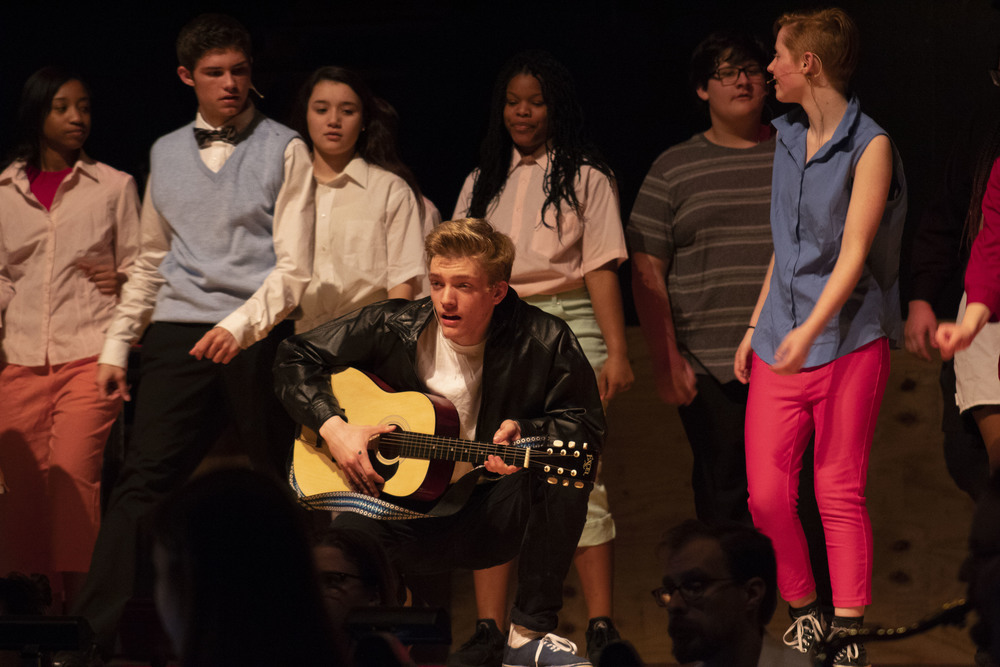 A Rocking Good Performance
By ERIC DUNN Red and Blue Staff Writer
Tuesday, April 30, 2019
The cast and crew of Alliance High School's "All Shook Up" shook up the audience with their stunning rendition of the famous musical written by Joe DiPietro.
Directed by Carrie Chunat, the musical featured songs from the "King of Rock-n-Roll" himself, Elvis Presley. Songs included some his top hits such as "Jailhouse Rock," "Hound Dog" and, of course, "All Shook Up."
The musical follows the stories of the residents of a small town in the Midwest, governed by the cruel and repressive mayor Matilda Hyde (junior Katie Blake). When the guitar-playing, leather-jacketed Chad (junior Ryan McKnight) comes to town, he tries to instill a sense of rebellion in the suppressed residents, setting in motion a confusing chain of events and love interests.
The town's mechanic, Natalie (senior Rachael Wagner), falls for Chad immediately upon his arrival, to the dismay of Dennis (junior Tommy Gress), an awkward, aspiring dentist who has long held feelings for Natalie.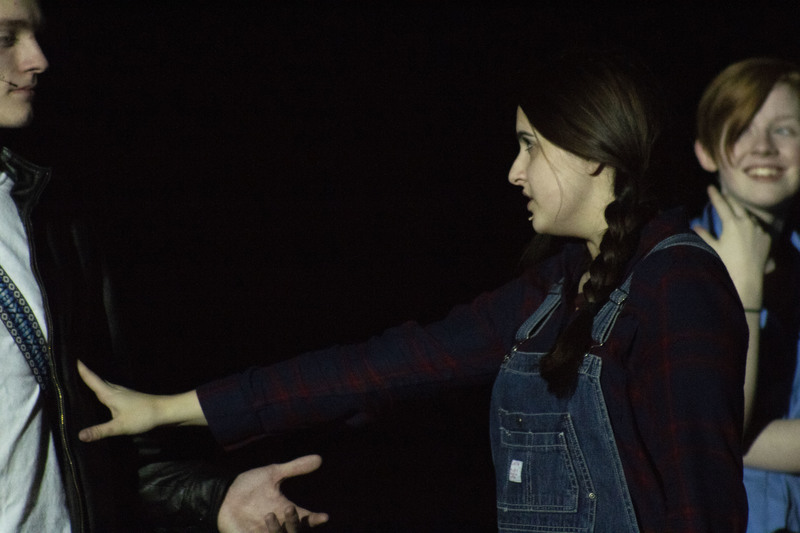 Chad, however, falls for Miss Sandra (junior Savannah Heller), the intellectual owner of the town's museum, who rebuffs his affections. While Natalie starts pretending to be a man to impress Chad, Miss Sandra falls in love with her alter ego, Ed.
Meanwhile, Natalie's father, Jim (junior DeSean Hollins), also falls for Miss Sandra. His long-time friend, Sylvia (senior Destini Howard), scolds Jim for these feelings while secretly having feelings for him.
Young love blossoms between Sylvia's daughter, Lorraine (sophomore Unikka Threats), and Mayor Matilda Hyde's son, Dean (sophomore Matthew Eversdyke). But the two are forbidden to be together by the Mayor - a rule enforced by the sheriff of the town, Earl (senior Stefan Thalacker), who is secretly in love with the Mayor.
To make matters even more confusing, Chad realizes he has feelings for Ed after Ed kisses him, causing him to question his identity. Ed reveals herself as Natalie, and when she does, Chad becomes even more confused and leaves town.
Believe it or not, everything becomes clear in the end. Dennis and Miss Sandra realize they share common interests, falling in love with each other. Jim and Sylvia take their friendship to the next level. The Mayor gives permission for Dean and Lorraine to be together after Earl confesses his love for her. After Chad returns and confesses his confused feelings for her, Natalie decides she wants to go her own way, leaving Chad at loose ends.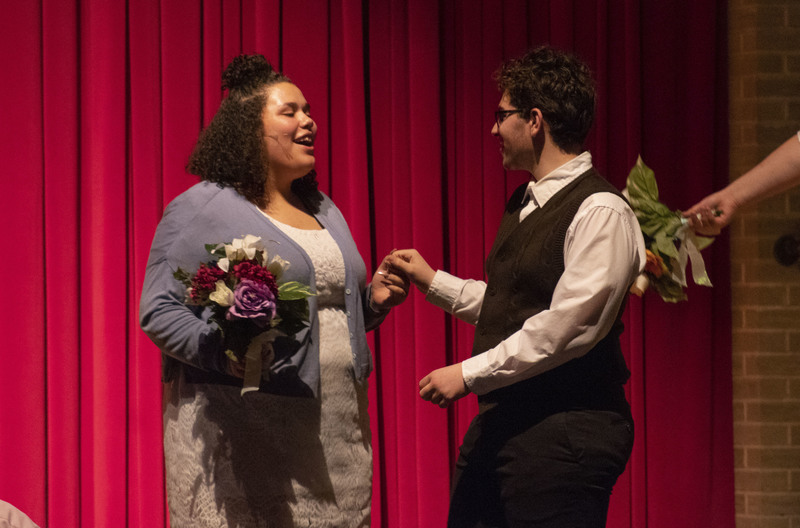 Members of the cast were extremely proud of their performances in the musical. Sophomore McKenzie Schoolcraft, who received the 2019 Blue Robe for an outstanding performance as a chorus member, thought they "put on a pretty good show." Her outlook was shared by Chunat, who thought the cast did "an amazing job, really embracing their characters, and had so much fun on stage."
The cast also praised the musical's themes. Chorus member Katie Howell said the story was "very upbeat and the overall message, to follow your dream wherever it may lead, was positive."
Gress, who played Dennis, thought the musical's basis on Shakespeare's "Twelfth Night" was interesting.
This musical was also the last for many seniors who have been involved in productions their entire high school career. Thalacker, who played Earl, said he doesn't know what he's going to do without a musical in his life. Chorus member Marian Davidson said graduating is "bittersweet. It's nice to have the opportunity to move on, but you leave everything behind."
Chunat says she just hopes her seniors "soak up the moment and keep all the memories. They have worked hard and deserve the applause."
"All Shook Up" is Alliance High's 30th musical, marking three decades of annual productions at the school. With the stellar performance delivered this year, who knows what captivating story and new talent next year will bring?