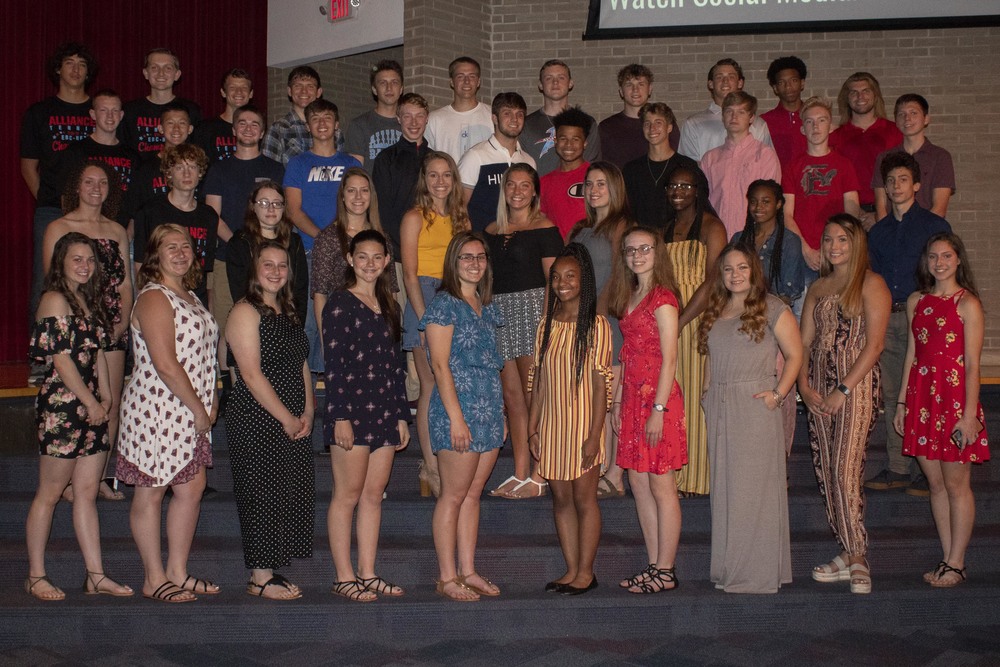 Spring Athletes Recognized
Cheyanne Gonzales
Monday, June 03, 2019
Alliance High School recognized the spring athletes during the Spring Sports Awards Night on Thursday, May 30.
The Sports recognized were baseball, softball, boys' tennis, boys' track and girls' track.
AHS recognized the senior athletes who took part in their last high school sport during the spring season. The seniors recognized are as follows: Richard Elliott, Emma Lopez, Reginald Wooten, James Gray, Justin Hinkle, Ralph Borosky, Cameron Cox, Noah Durst-Hawkins, Gavin Geier, Adam Hale, Micah Hicks, Devyn Jones, Seth Stevens, Deyvon Wood, Leeah Dulaney, Nadia Holderfield, Nadia Keppel, Allison Waggoner, Carli Beckett and Caitlynn Fernandez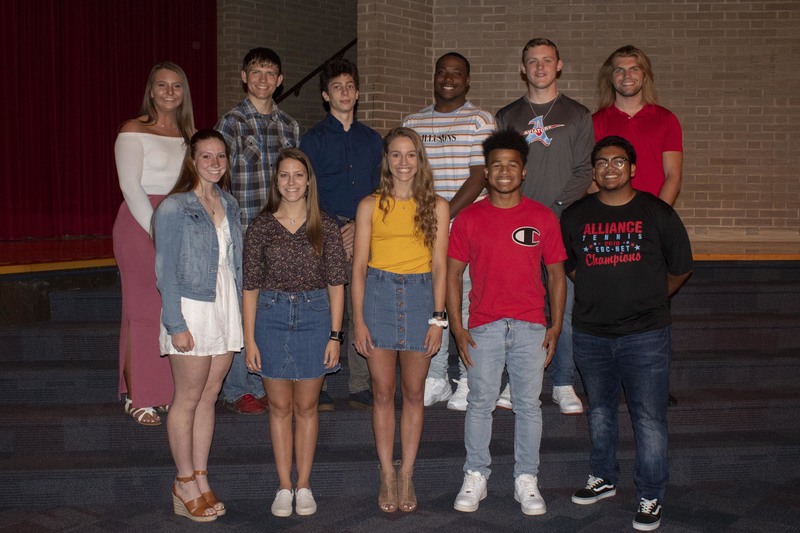 The EBC Scholar Athletes are as follows: Baseball- Logan Bell, Gavin Bruni, Andrew Datz, Sam Holt-Hoskins, Trevor Strata, Joe Thompson and Ty Young
Softball- Taylor Boschini, ShiAnn Crom, Caitlynn Fernandez, Regan Grisez, Mia Holt-Hoskins, Sydney Kuntzman and Alyssa White
Boys' Tennis- Justin Hinkle, Blake Hood, Gus Jackson, Sean Kelly, Dakota Markland, Adam McMillen and Lawyer Penird
Boys' Track- Ralph Borosky, Dylan Bugara, Jacob Butcher, Cameron Cox, Noah Durst-Hawkins, Matthew Everysdyke, Gage Ford, Gavin Geier, Tommy Gress, Adam Hale, Nathan Heater, Grant McGeehen, Seth Stevens and Anthony Zumbar
Girls' Track- Zarliyah Board, Kate Boehm, Kamryn Bondoni, Valencia Davis, Leeah Dulaney, Mackenzie Fletcher, Meghan Frazier, Ke'Aijah Hawkins-Montgomery, Nadia Holderfield, Emma Huff, Nadia Keppel, Julia Schwartz and Allison Waggoner
EBC All-League Selections are as follows:
Baseball- Logan Bell, first team; Gavin Bruni, first team; J'Dynn Seals, second team; Trevor Strata, second team; Nathan Heater, honorable mention; Emma Lopez, honorable mention;
Softball- Raelynn Thomas, second team; Alyssa White, second team; Carli Beckett, honorable mention; Chloe Pasco, honorable mention
Boys' Tennis- Blake Hood, first team; Lawyer Penird, first team; Gus Jackson, second team; Adam McMillen, second team; James Gray, honorable mention; Sean Kelly, honorable mention
Boys' Track- Micah Hicks, first team; Cameron Cox, second team; Noah Durst-Hawkins, second team; Gage Ford, second team; Gavin Geier, second team; Dylan Bugara, honorable mention; Nick Oldfield, honorable mention
Girls' Track- Zarliyah Board, first team and second team; Mackenzie Fletcher, first team; Meghan Frazier, first team and second team; Allison Waggoner, first team; Cayla Mandy, honorable mention; Julia Schwartz, honorable mention
The spring sports season brought athletic success to AHS with the boys' tennis team earning the EBC and NET championships, Micah Hicks receiving the EBC championship in Shot Put and Zarliyah Board, Mackenzie Fletcher, Meghan Frazier and Allison Waggoner earning the championship in the 4x100m Relay.
AHS wasn't the only school to have athletic success, the AMS boys' and girls' track team won the EBC championship and competed in the state meet this season.