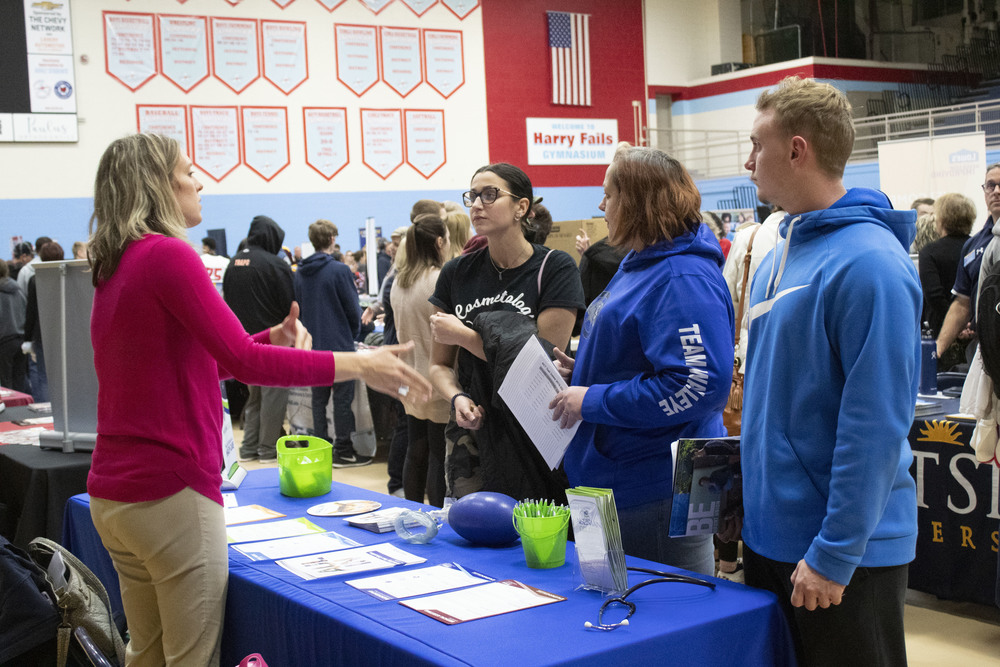 Enroll, Enlist, Employee
Cheyanne Gonzales
Thursday, November 14, 2019
AHS Prepares Students for Future
Over 60 vendors attended the annual college and career night hosted at Alliance High School on Nov. 7.
The annual night is geared towards showcasing the opportunities that await the seniors following graduation in the spring.
"It's to get them thinking about their futures," said Allison Morrison, a guidance counselor at AHS.
The vendors filled tables in the gym with poster boards, brochures and handouts for the students to take. The gym was filled with representatives from colleges and universities, local businesses and military branches looking to recruit the seniors. AHS strives to ensure all students are either enrolled in college, employed in the workforce or enlisted in a branch of the military before they graduate in May.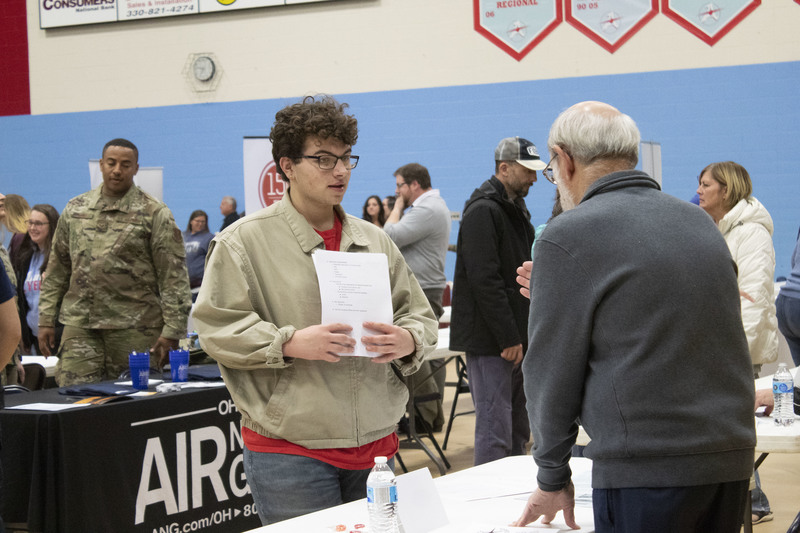 "The college and career night just keeps growing, which I think is awesome," Morrison said. "We have new employers this year, new colleges, we're actually starting to get unions involved and various branches of the military. We're big on the three Es. I want our students to be employable, educated or enlisted and I think that's very well represented today."
Providing a variety of options for the students in one location, such as the college and career night, allows them the opportunity to explore what's available.
"I thought it was a great college and career night. Hats off to our guidance counselors for organizing it," said Shawn Jackson, principal of AHS. "There were over 60 vendors and really opportunities for all of our kids. We want our kids to be enlisted, enrolled or employed after they graduate. Here tonight they have all of those opportunities to look into."
Following the senior class meeting, students flooded the gym. All seniors are encouraged to attend the college and career night and speak to at least five different vendors. Senior Mia Holt-Hoskins appreciated being able to attend the college and career night to see the different colleges and careers available to her.
"I feel like it's very educational for everyone," she said. "I really enjoy it. I feel like it's a good way to see all the things in Alliance just put out right in front of you. You may not realize this is all the things we have to offer, but we really do have a lot. It's a really great night and everyone should take advantage of it."