Veterans Recognized at Assembly
By CELINE MONASTRA - Red and Blue Staff Writer
Thursday, November 14, 2019
Veterans And Students Hear from Community Pastor
"Aim High. Fly, Fight, Win!" rang out in the auditorium as Retired Master Sergeant Raymont Johnson did the Air Force call-and-response with students during the fifth annual Veteran's Day assembly on Nov. 8.
Sgt. Johnson is mostly known in the school and community as Pastor Johnson of the Spirit of Faith Christian Center of Ohio, but Johnson, a 1978 graduate of Alliance High, joined the Air Force in 1983 and served for 32 years. He was stationed in Turkey and served in several locations such as Puerto Rico, Hawaii, Greece and Spain.
Johnson wanted all students to remember the sacrifice made by our veterans. While he had opportunities to travel and meet famous people - such as presidents George W. Bush and Bill Clinton - many veterans miss important events in their lives, like the birth of their child or family birthday parties, because of their service.
"I never want you to forget the sacrifice that was made for you. That was made for me. The sacrifice that people are laying down their lives, so that you can have the opportunity to be here at Alliance High School," Johnson said.
He emphasized core values that are taught in the military, but said that all people should strive to display them. He said success in the military requires hard work and focus on the right things, which is just as true in life.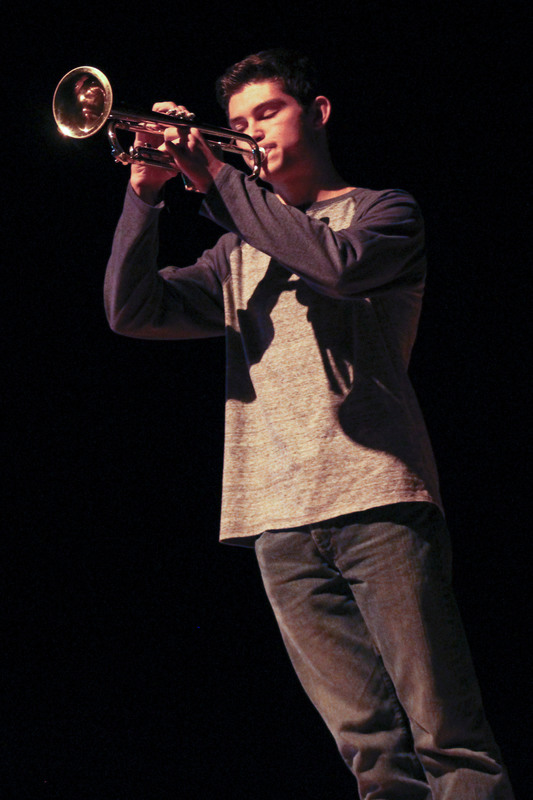 "In the Air Force - and not only in the Air Force, but also in your own life - your integrity should be above all. You should put others before yourself, and you should strive for excellence in everything that you do," he said.
Social Studies teacher Joseph Beichler started the Veteran's Day assembly in 2014 as a way to recognize and honor local veterans.
"The sacrifice made by veterans is a very honorable thing, and a very important thing in our society," Beichler said. "I think it's important to give them a day of recognition, and it's important for students to see that also."
Johnson was presented with a welded flag banner made by Zarliyah Board, Chad Mercer and Kyrel Keller, students in the Welding and Fabrication career tech program.
The band and choirs played an important role in the assembly. The choir performed "America Sings" and the Choralaires performed "The Star Spangled Banner."
Tommy Gress performed "Taps," with an echo by Abby Oyster, to conclude the assembly.
Photos by Ethan O'Neil