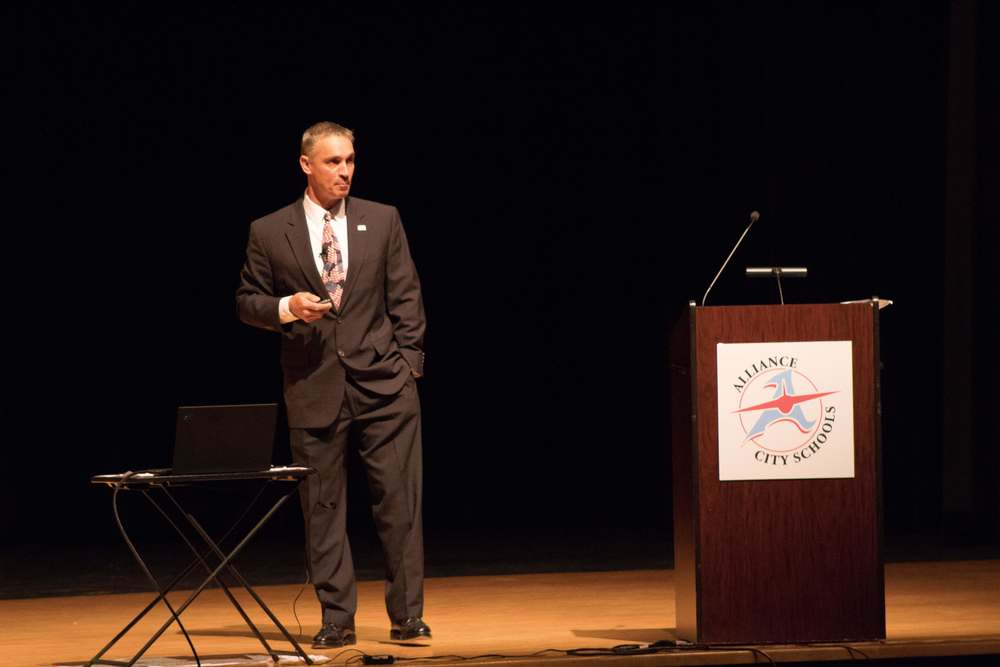 Alumni veterans honored at third annual AHS Veterans Day Program
Chelsea Shar
Friday, November 10, 2017
The stories of several veterans was told at Alliance High School's third annual Veteran's Day Program on Friday.
Corey Streza, a 1987 graduate of Alliance High School and veteran of the United States Air Force, spoke about his family history, rich with military service, including his brother Brett Streza whom a local scholarship is created in honor of.
From Corey Streza's grandfather, who served in World War I to his father, a World War II veteran and his Uncle, a Korean War veteran and several cousins his family, is full of military stories. He shared a few of the stories and also acknowledged a few veterans in the audience who invested in him as he was growing up in Alliance.
Local veterans attended the program and a slide show of Alliance area veterans who had served played before the program.
Ronald Cox was one of the veterans who knew Corey since he was a small child.
"The kid we knew has grown into such a great man. I'm proud to know him," Cox said.
Cox served in Vietnam as a crew chief in the Army and received a Purple Heart for his service.
At the end of Streza's speech a video message from Nate Self, an Army Ranger Commander who was beside Marc Anderson when he died, spoke about Anderson and his final moments.
Anderson was a 1990 graduate of Alliance High school.
He and Self were on operation Anaconda in 2002, the first attempt of the U.S. to find Osama Bin Laden after September 11, 2001.
In a rescue effort for a missing Navy Seal member in Afghanistan, their helicopter went down. Nate Self was beside Marc Anderson when Anderson died after the crash. Now Self travels the country educating the public about Post Traumatic Stress Disorder among veterans and talking about his book, "Two Wars: One Hero's Fight on Two Fronts- Abroad and Within."
Self spoke highly of Anderson, who had been a junior high teacher before enlisting in the army. He said one of the things that showed the character of Anderson was his the will he left. In his will he bequeathed money to a junior high student of his, to help that student go to college.
"He thinks about other people even when he was thinking about his own death. It's just the kind of person Marc was. It's the kind of people that you produce in your community and that we produce in this country," Self said.
He challenged the audience to remember Anderson and his sacrifice this Veterans Day.
Students also participated in the program that was organized by history teacher Joe Beichler.
The Choralaires and the High School Band performed and the American Sign Language class signed the National Anthem. Junior Will Kinser played Taps on trumpet to conclude the program.
Other Alliance schools hosted separate programs as well on Friday which included veterans. Parkway Elementary had over 20 veterans attend their assembly where students performed for service men and women. Alliance Middle School also had a ceremony where they heard from veterans Chuck Gross and Frank Barnes. Rockhill Elementary hosted a program and over 50 veterans attended and Boy Scouts did a presentation of the flag. Northside Intermediate also hosted Veterans for a lunch with the students in LEAD class. There was a table set on the stage in honor of deceased Veterans and students made pins for the Veterans to take home.