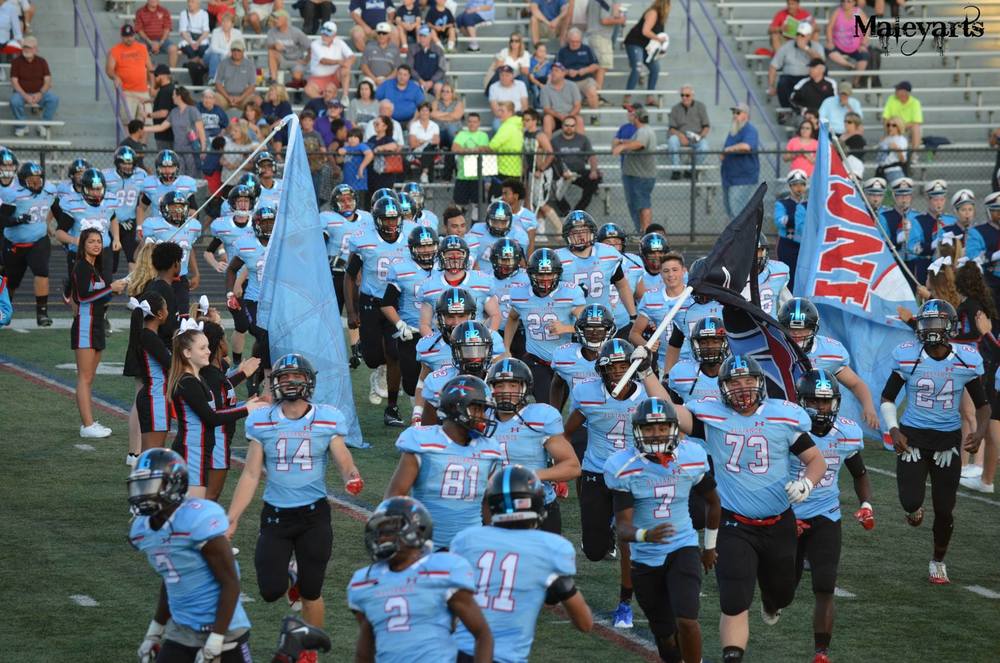 Flyers Make History
Jon Smith
Friday, November 17, 2017
Flyers Make History
Team Closes Unprecedented Season
By HOWARD FRAZIER
Red and Blue Sports Editor
After last appearing in the playoffs in 2006 and never outright winning a Northeastern Buckeye Conference title, the Alliance Aviator football team secured a playoff berth and won the NBC outright in its final season as a conference.
Lead by second-year coach Seth Whiting, the Aviators finished with a 7-0 undefeated record in conference play, as well as 9-2 overall.
Coach Whiting finished as the NBC Coach of the Year, and senior running back Duce Johnson finished as the conference MVP while compiling over 2,400 yards and 31 touchdowns, which are both school records.
The team also finished with five first team All-NBC selections which included the aforementioned Johnson, seniors Howard Frazier, Tyler Johns, Jack Recchiuti, and junior Aaron Maley.
It was a special offensive season for the Aviators as they averaged 41 points and over 425 yards per game to lead all of Stark County in total offense. While these stats garnered attention for the skill players, the team's veteran offensive line played a pivotal role as well. Seniors Devin Thompson, Brendan McGeehen, Alex Leasure, and Jack Recchiuti, as well as juniors Brandon Mazzei, Aaron Maley and Jarek Leonard, made huge strides in the offseason to become a force all season long.
Defensively the defense made great improvements over past seasons. The defensive front lead by Johnson and seniors Marcus Davis, Austin Lilly, Tony Young and Tyler Williams averaged nearly three sacks and 5.5 tackles for loss per game.
Despite losing a hard-fought playoff game to Notre Dame-Cathedral Latin by a score of 38-14, the Aviators gained valuable playoff experience to carry into next season. With 20 seniors on the team this past season, there are crucial spots all over the field that will see new faces next year.
AHS will look to compete for another playoff berth and the first title in a new league, the Eastern Buckeye Conference.
The AHS football team just finished a record-setting season. Here, the Aviators take the field in the Sept. 23 game against Louisville Photo by Sarah Maley