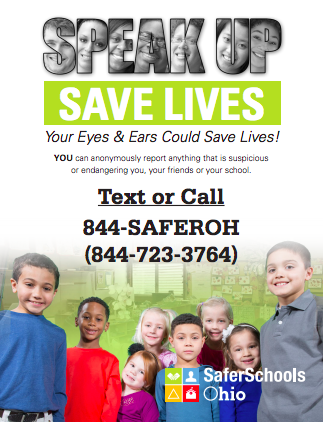 Speak up and Save Lives
Chelsea Shar
Tuesday, February 20, 2018
A safety resource is available to Ohio Schools that could prevent and alert local law enforcement to a school safety crisis. This resource – an anonymous tip line service – is available free of charge to every school district and public and private school in Ohio.
The Ohio Department of Education and the Ohio Department of Public Safety launched the SaferOH tip line that will accept both calls and texts 24 hours a day for schools that register for the service.
This tip line allows students and adults to anonymously share information with school officials and law enforcement about threats to student safety—whether that involves a threatened mass incident or harm to a single student.
Every tip can remain anonymous. School safety analysts may ask for additional information, but the caller can remain secret or leave his or her contact information for later follow-up.
Calls or texts to 844-SaferOH (844-723-3764) are answered by analysts in the Ohio Homeland Security's Threat Assessment and Prevention (TAP) Unit. When action is needed, the TAP Unit immediately forwards information to local school officials, local law enforcement agencies and others, if necessary.