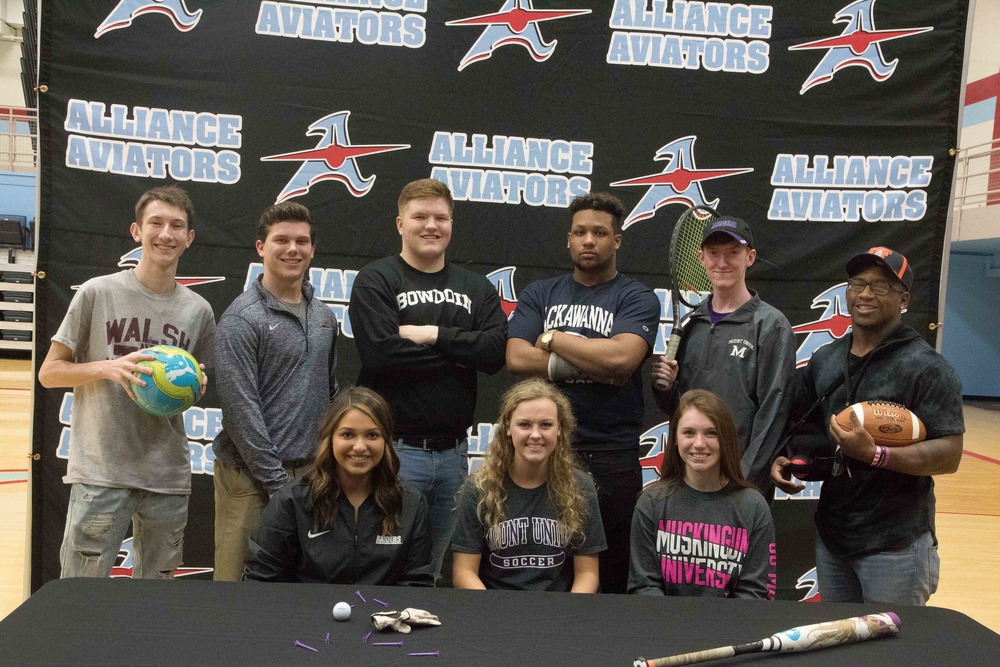 Seniors Sign To Play College Sports
Chelsea Shar
Tuesday, February 27, 2018
By TAYLOR BOSCHINI, KYLEIGH FERRALL, MEGHAN FRAZIER, GRANT McGEEHEN, KHAIREE MITCHELL and JACK PENTURF
Red and Blue staff writers
PHOTOS by ROBB QUICCI and YEARBOOK STAFF
The following Alliance High seniors signed with colleges and universities in their respective sports last week:
Samuel Denny signed with the University of Mount Union for both tennis and football.
"Growing up in Alliance, I've always felt I was part of Mount," he said. "They have good class size, great student body, good sports and academics programs, and it's close to home."
Denny has played tennis all four years at AHS. He joined the football team his junior year as a kicker.
He'll be able to play both sports in college, since Mount splits the tennis season between the spring and fall. He will only miss about three tennis matches during the football season, he said.
Denny plans to major in Biomedical Engineering.
"I've always loved building things and working with my hands, but I also love working with people. This would allow me to do both."
Howard Frazier signed with John Carroll University for football. Frazier played football and ran track all four years at AHS.
He played as quarterback and defensive back, and was a sprinter for the track team. He is certain that JCU was the right choice for him.
"I felt that it was a great fit for me both athletically and academically" he said. "As a Catholic, I feel that it will help me stay connected to my faith."
Frazier plans to major in political science and possibly minor in business. He thinks that JCU will allow him to prepare for a future careers.
"I eventually want to become an attorney," he said. "They have a really good political science program at John Carroll."
Madison Gasparik signed with the University of Mount Union to play golf.
"I've wanted to go there since I was a little girl," she said of Mount. "I also want to continue my love of playing golf at a collegiate level."
She was on the girls' golf team and ranked the No. 1 player all four years at AHS.
Gasparik plans to major in nursing and hopes to become a nurse practitioner after getting her degree.
"I'm thankful to have had such a great high school experience, not only academically but also athletically," Gasparik said. "I look forward to continuing my academic and athletic career at the University of Mount Union."
Duce Johnson signed with the University of Findlay to be part of their football program.
In high school Duce played running back as well as linebacker for the football squad. He also wrestled and ran track for the Aviators.
Johnson said he picked Findlay for multiple reasons including a nice campus, a good football team, a tough weight lifting program, as well as a good weight lifting coach.
Johnson was attracted to the history of running backs from Findlay, as well as their style.
"I want to run the ball," he said, though he is also hoping to break some rushing records at Findlay, as he did at AHS.
He plans to major in business, with a possible minor in physical education.
Mackenzie Kohl signed with Muskingum University for softball.
In high school she played tennis and softball. She played doubles with Madalyn Waggoner and pitched or played outfield in softball.
"I really like the school and the coaches," she said of Muskingum. "I was also not ready for softball to end."
Kohl is planning to major in pre-physical therapy and hopes to become a physical therapist after college.
"It feels like home and very welcoming," she said. "The people there were very encouraging and helpful."
Mallory McCreedy signed with the University of Mount Union for soccer.
"I looked at their soccer program and met the team," she said. "They were all really nice."
Soccer is a sport she has been playing since the age of four. For the first 11 years, she was a sweeper, the last line of defense before the goalie. Her junior year, Coach Matthew Horning changed her position to forward, then changed her again to midfield her senior year.
Inspired by her mother, Jennifer McCrea, she plans to major in nursing and eventually become a pediatric nurse practitioner. A diabetic, McCreedy works with children at Camp Ho Mita Koda. She feels that pediatric nursing would combine her love of working with children with her passion for health care.
Jack Recchiuti signed with the University of Bowdoin to play football.
He was on the football and track teams all four years at Alliance High. He played offensive and defensive line in football, and threw the shot put and discus in track.
"I wanted to go somewhere small, and this school is a perfect fit for me," he said.
Caleb Wade signed with Walsh University for their soccer program.
"It felt like the best choice for me," he said. "They have the best coaching staff, and the best opportunities to succeed both in academics and in sports."
Wade plans to major in business and eventually get his MBA, though he hasn't decided whether to go into administration or marketing.
Another reason that Wade chose Walsh is that it is close to home.
"Family is so important to me, I don't think I could leave my family and go somewhere far away," he said.
Tyler Williams signed with Lackawanna College in Scranton, PA, for football.
He has played tight end in football, center and power forward in basketball, and participated in 110-meter hurdles, 300-meter hurdles, and high and long jump in track during his career at Alliance High.
"It's a place that has a lot of competition and I like competition," he said of Lackawanna. "It's a home away from home."
Williams plans to be an early childhood math teacher and a coach.
"I'm very excited," he said. "I can't wait to leave."