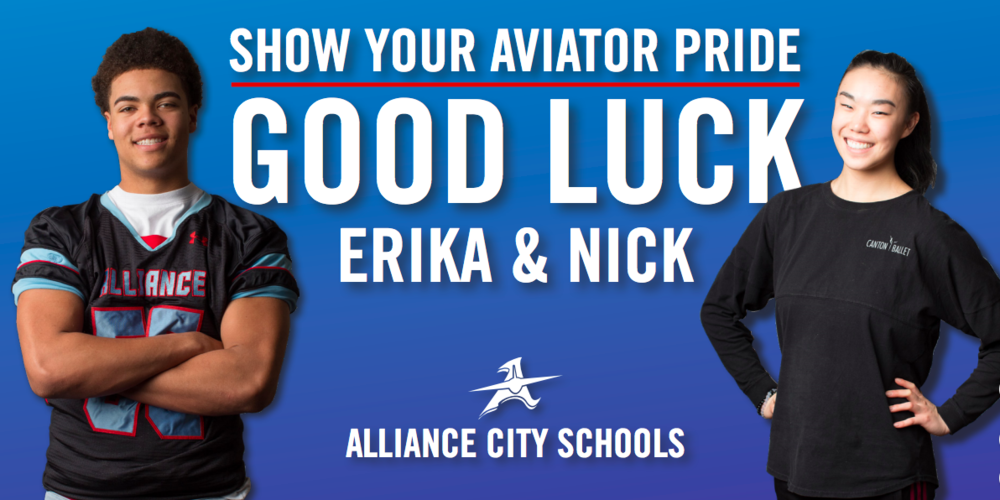 Touchdown and Tutus returns, features two Alliance students
Chelsea Shar
Friday, March 02, 2018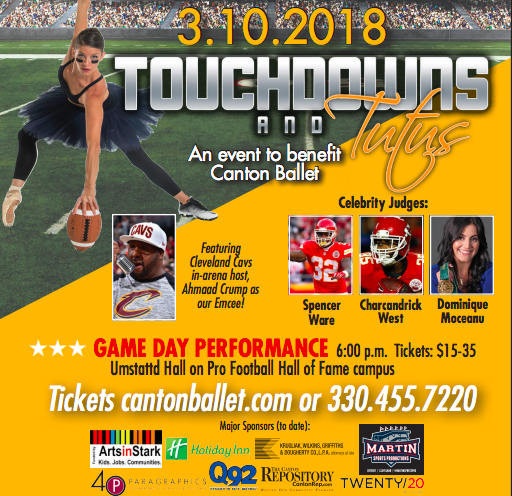 Kickoff time for Canton Ballet's family friendly Touchdowns and Tutus fundraiser is 6:00 p.m. on Saturday, March 10, 2018, at Umstattd Performing Arts Hall on the Pro Football Hall of Fame campus. Game Day Performance will feature local high school football talents paired with Canton Ballet dancers before a panel of celebrity judges.
At 7:30 p.m. the HOF Tailgate After Party, a meet-and-greet with celebrities and performers and a tour of the Pro Football Hall of Fame museum, will take place at the Pro Football HOF event center offering specialty tailgate foods, drinks, a cash bar and music by Nikolina, the Mid Day Diva of Q92 Radio.
The Game Day Performance program will open with a collaborative performance of billboard top chart hits by the Canton Symphony Youth Orchestra conducted by Matthew Jaroszewicz and DJ KOB. Additional entertainment includes NBC's The Voice singer and songwriter Rudy Parris, award-winning singer and songwriter Marina Strah and New York City Ballet principal dancers Tiler Peck and Canton Ballet alumnus Zachary Catazaro.
Program emcees are Cleveland Cavaliers in-arena host Ahmaad Crump, Q92 and Canton Charge arena host Megan McCrea and Matthew Wintz of WKYC TV.
Game Day Performance judges are 1996 Olympic gold medal gymnast Dominique Moceanu and Kansas City Chiefs running backs Spencer Ware and starter Charcandrick West.
The 13 couples who will dance at the Game Day Performance are Taylor Adams, Canton Central Catholic High School, and Trey Carl, Minerva; Nicole Belden, Hoover, and Darius Stokes, GlenOak; Lauren Compton, Canton Central Catholic, and Nolan Goering, Canton Central Catholic; Hannah Dunnerstick, GlenOak, and Clayton Tabler, McKinley; Isabella Hellmann, Jackson, and Dylan Walczak, Louisville; Tamaki Hoshi, St. Thomas Aquinas, and Christian Harwood, St. Thomas Aquinas; Margaret Kingsbury, GlenOak, and Terrance Mack, GlenOak; Emily Kuntz, GlenOak, and Luke May, St. Thomas Aquinas; Morgan Lineweaver, Hoover, and Joe Fuchs, Canton Central Catholic; Anna Mears, Hoover, and Connor Fritz, Minerva; Maria Miller, Kolbe Academy, and Nicholas Oldfield, Alliance; Erika Shi, Alliance, and Lucas McGuire, Massillon Washington; and Aleesha Singh, Jackson, and Dominick Bowman, Perry.
The football players were selected at tryouts held last fall at the ballet studios. Their Canton Ballet company partners were chosen by audition at a later time. Rehearsals began in early January and will continue until the performance.
NFL Films Emmy award-winning producer Greg Frith brought his film crew to the tryouts in October and will return to film rehearsals and the final event in March for a documentary about Touchdowns and Tutus. Select couples will be dancing to music gifted to Canton Ballet that is exclusively licensed and owned by NFL Films.
Admissions are Game Day Performance $25 adult, $15 student and $35 for Preferred Gold seating; HOF Tailgate After Party $25 adult and $15 student. Tickets are available online at cantonballet.com or call 330.455.7220.
New this year are the VIP Pre Game Reception sponsored by Robert J. Events and Catering at 5:00 p.m. at the Zimmermann Symphony Center on the Hall of Fame campus and the VIP All Access Pass with admission to all three events. Both are sold out.
Touchdowns and Tutus is the only known fundraiser performance event that pairs football players and dancers in a competition. Proceeds will benefit the School of Canton Ballet financial aid and educational outreach programs.
Major sponsors to are The Canton Repository, O92 Radio, Krugliak Wilkins, Martin Sports Productions and Paragraphics.
Canton Ballet alumna Ashley Bettis is founder and chair. Canton Ballet is a
501(c)( 3) nonprofit organization. Its studios and offices are located at the Cultural Center for the Arts in downtown Canton. Cassandra Crowley is Canton Ballet artistic and executive director.