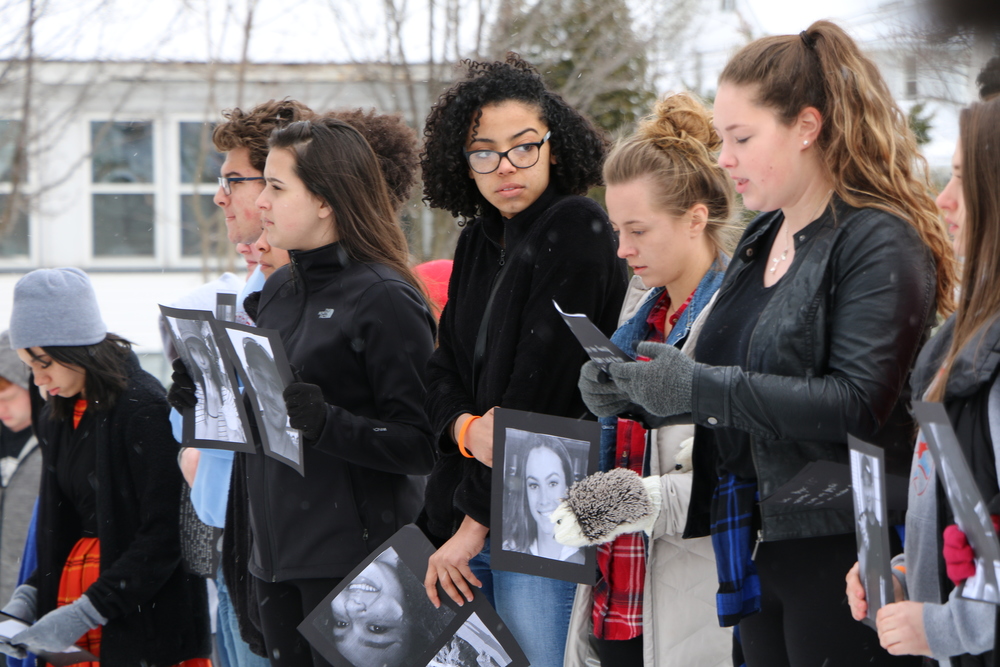 Students participate in National Walkout Day
Chelsea Shar
Wednesday, March 14, 2018
Approximately 150 Alliance High School students participated in National School Walk Out Day on Wednesday, March 14.
Starting at 10 a.m. students filtered outside the school building's main door, monitored by school and district administration, to the grass in front of the school by the jet.
Signs that abided by the school's code of conduct were carried along the way stating support for the victims of Marjory Stoneman Douglas High School where a school shooting took place last month.
Students walked to the jet in front of the high school and linked arms in a circle. They read the names of each student who was killed in the Florida school shooting along with information about the life of each victim. Student leaders then suggested ways in which students can honor the victims including talking to 17 new people at school and learning their name.
There were several moments of silence for all those lost in the shooting in Florida.
"Enough is enough," was the theme of statements by student leaders who asked for continued action to make schools safer in the U.S.
Alliance City School Administration had met with local leaders of the National Walkout Day movement while it was in the planning process and decided to give students a positive outlet to voice their concern for this National issue.
The district allowed them time to express themselves in a manner consistent with the Alliance High School code of conduct. Students cooperated and conducted a peaceful, orderly demonstration.
Students were responsible for all missed work during the 30 minutes they were outside of class.
Thank you to the Alliance Police Department and ACS staff who helped to ensure the safety and security of all students during the Walkout.