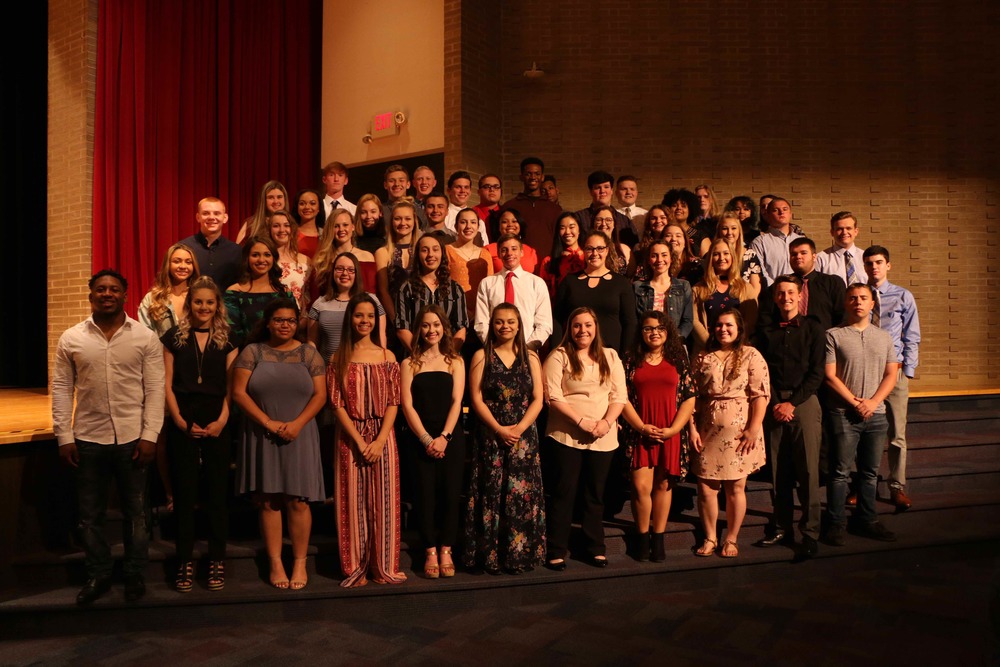 Class of 2018 receives over $2.3 million in scholarships/awards
Chelsea Shar
Tuesday, May 08, 2018
The Alliance High School class of 2018 broke school records on Monday evening as they received over $2.3 million in awards and scholarships at the Senior Awards Night.
Over $105,000 of the awards were from the Alliance High School Foundation.
Several of the scholarships were full-tuition scholarships including the Elvin Wilson/Duke University Scholarship awarded to Brendan McGeehan and The Investment Alliance Scholarship (University of Mount Union) awarded to nine students, Kiara Bennett, Natalie Bert, Mara Cvelbar, Madalyn Waggoner, Madison Gasparik, Cortaise Rogers, Alexis Kelley, Alexis Orzo and Andrew McMillen. The AllianceWorks Scholarship also was awarded to five seniors and pays for all tuition to Stark State College. Those recipients include Korryn Jackson, Morgan Davis, Tyler Phillips, Carolyn Garrison and Jazmine Johnson.
There were five new scholarships added this year including the AHS Foundation Gary Andreani Scholarship, the Tabernacle Baptist Church/Empowerment Center Scholarship, the Nellie V. Visi Memorial Scholarship, the Ronald and Erma Holloway Memorial Scholarship and the Brenda L. and Jeronda B. Holloway Memorial Scholarship.
Over 81 organizations or scholarships were represented on Monday evening. 56 students received awards or scholarships and many received multiple awards and scholarships. AHS has the community and its many partners to thank for supporting students and their furthered education.
The full list of scholarship recipients is as follows:
| | |
| --- | --- |
| AHS Foundation/Baker Health Scholarship | Riley Grisez |
| AHS Foundation/Baker Health Scholarship | Morgan Davis |
| AHS Foundation/Beverly Robertson Robertson-Yeagley | Carissa Haynes |
| AHS Foundation/Brett Strezza Scholarship | Alexander Leasure |
| AHS Foundation/Byron & Isabel Saffell Scholarship | John "Jack" Recchiuti |
| AHS Foundation/Carli-Cowan Memorial Scholarship | Joseph Marazza |
| AHS Foundation/Chris Penny Memorial Scholarship | Madison Gasparik |
| AHS Foundation/Class of 1963 Scholarship | Jacob Shields |
| AHS Foundation/Class of 1965 Scholarship | Devin Thompson |
| AHS Foundation/Cliff Trainer Scholarship | Caleb Monk |
| AHS Foundation/Cliff Trainer Scholarship | Lena DeLeon |
| AHS Foundation/David Mainwaring Memorial Scholarship | Devin Thompson |
| AHS Foundation/Donna Floyd Scholarship | Korryn Jackson |
| AHS Foundation/Donna Floyd Scholarship | Mackenzie Webb |
| AHS Foundation/Dorothea & Owen McCoy Scholarship | Zaviona Fountain |
| AHS Foundation/Edwin and Ruth Gibson Scholarship | Anthony Young |
| AHS Foundation/Eugene Haidet Scholarship | Mara Cvelbar |
| AHS Foundation/F. Kermit Donaldson Scholarship | Hannah Tucker |
| AHS Foundation/Furcolow Family Athletic Scholarship | Daijin "Duce" Johnson |
| AHS Foundation/Gary Andreani Scholarship | Mallory McCreedy |
| AHS Foundation/Irene Goldie Mainwaring Memorial Scholarship | Samuel Denny |
| AHS Foundation/James Lear Memorial Scholarship | Madalyn Sibble |
| AHS Foundation/John Weitzel Days of Glory Scholarship | Abby Moore |
| AHS Foundation/John and Roene Klusch Scholarship | Maggie Novak |
| AHS Foundation/John and Roene Klusch Scholarship | Phoebe Jackson |
| AHS Foundation/John and Roene Klusch Scholarship | Paige Lilly |
| AHS Foundation/John and Roene Klusch Scholarship | Maria Sams |
| AHS Foundation/John and Roene Klusch Scholarship | Zaviona Fountain |
| AHS Foundation/Margaret Peach Scholarship | Joseph Marazza |
| AHS Foundation/Megan Adelman Memorial Scholarship | Dylan Bailey |
| AHS Foundation/Mel Knowlton Scholarship | Madison Gasparik |
| AHS Foundation/Mel Knowlton Scholarship | Mara Cvelbar |
| AHS Foundation/Mel Knowlton Scholarship | Daijin "Duce" Johnson |
| AHS Foundation/Mel Knowlton Scholarship | Cortaise Rogers |
| AHS Foundation/nonrenewable scholarship | Brendan McGeehen |
| AHS Foundation/nonrenewable scholarship | Howard Frazier |
| AHS Foundation/nonrenewable scholarship | Madison Gasparik |
| AHS Foundation/nonrenewable scholarship | Andrew McMillen |
| AHS Foundation/nonrenewable scholarship | Kiara Bennett |
| AHS Foundation/Pietrocola Family Scholarship (In memory of Nick Pietrocola) | Kiara Bennett |
| AHS Foundation/Pietrocola Memorial Scholarship | Madison Gasparik |
| AHS Foundation/R.G. Hamrick Schoalrship | Braijon Clayton |
| AHS Foundation/renewable scholarship | Lena DeLeon |
| AHS Foundation/renewable scholarship | Cortaise Rogers |
| AHS Foundation/renewable scholarship | Caleb Monk |
| AHS Foundation/renewable scholarship | Madalyn Waggoner |
| AHS Foundation/renewable scholarship | Erika Shi |
| AHS Foundation/renewable scholarship | Alexis Kelly |
| AHS Foundation/Rockhill PTO | Brendan McGeehen |
| AHS Foundation/Top Ten Percent Scholarship | Kiara Bennett |
| AHS Foundation/Top Ten Percent Scholarship | Natalie Bert |
| AHS Foundation/Top Ten Percent Scholarship | Mara Cvelbar |
| AHS Foundation/Top Ten Percent Scholarship | Zaviona Fountain |
| AHS Foundation/Top Ten Percent Scholarship | Howard Frazier |
| AHS Foundation/Top Ten Percent Scholarship | Madison Gasparik |
| AHS Foundation/Top Ten Percent Scholarship | Phoebe Jackson |
| AHS Foundation/Top Ten Percent Scholarship | Alexis Kelley |
| AHS Foundation/Top Ten Percent Scholarship | Joseph Marazza |
| AHS Foundation/Top Ten Percent Scholarship | Brendan McGeehen |
| AHS Foundation/Top Ten Percent Scholarship | Andrew McMillen |
| AHS Foundation/Top Ten Percent Scholarship | Abby Moore |
| AHS Foundation/Top Ten Percent Scholarship | Maggie Novak |
| AHS Foundation/Top Ten Percent Scholarship | Alexis Orzo |
| AHS Foundation/Top Ten Percent Scholarship | Cortaise Rogers |
| AHS Foundation/Top Ten Percent Scholarship | Maria Sams |
| AHS Foundation/Top Ten Percent Scholarship | Erika Shi |
| AHS Foundation/Top Ten Percent Scholarship | Madalyn Waggoner |
| AHS Foundation/Utterback Family Scholarship | Caleb Monk |
| AHS Foundation/Utterback Family Scholarship | Braijon Clayton |
| AHS Foundation/Vietnam Veterans Scholarship | Daniel Amsden-Michel |
| Alliance Area Retired Teachers | Daijin "Duce" Johnson |
| Alliance Area Retired Teachers | Devin Thompson |
| Alliance Area Retired Teachers | Tyler Williams |
| Alliance Association of Office Professionals | Sophia Brooks |
| Alliance Education Assocation/Robert Dowling Scholarship | Jack Recchiuti |
| AllianceWorks/Stark State College Scholarship | Korryn Jackson |
| AllianceWorks/Stark State College Scholarship | Morgan Davis |
| AllianceWorks/Stark State College Scholarship | Tyler Phillips |
| AllianceWorks/Stark State College Scholarship | Carolyn Garrison |
| AllianceWorks/Stark State College Scholarship | Jazmine Johnson |
| American Legion Outstanding Sr Boy | Caleb Monk |
| American Legion Outstanding Sr Girl | Madison Gasparik |
| Ann McConahay Scholarship | Zaviona Fountain |
| Ann McConahay Scholarship | Joseph Marazza |
| Ann McConahay Scholarship | Mackenzie Webb |
| Ann McConahay Scholarship | Samuel Denny |
| Ann McConahay Scholarship | Andrew McMillen |
| Ann McConahay Scholarship | Carissa Haynes |
| Ann McConahay Scholarship | Erika Shi |
| Ann McConahay Scholarship | Carolyn Garrison |
| Ann McConahay Scholarship | Daijin "Duce" Johnson |
| Ann McConahay Scholarship | Devin Thompson |
| Ann McConahay Scholarship | Maria Sams |
| Ann McConahay Scholarship | Kiara Bennett |
| Ann McConahay Scholarship | Riley Grisez |
| Ann McConahay Scholarship | Mariah Stanish |
| Ann McConahay Scholarship | Madison Linville |
| Ann McConahay Scholarship | Korryn Jackson |
| Ann McConahay Scholarship | Alexandria Hill |
| Ann McConahay Scholarship | Abby Moore |
| Ann McConahay Scholarship | Anthony Steed |
| Ann McConahay Scholarship | Madalyn Waggoner |
| Ann McConahay Scholarship | Alexis Kelley |
| Ann McConahay Scholarship | Phoebe Jackson |
| Ann McConahay Scholarship | Sophia Brooks |
| Ann McConahay Scholarship | Madison Gasparik |
| Ann McConahay Scholarship | Brendan McGeehen |
| Aultcare Spirit Team Award | Kiara Bennett |
| Aviator Sports Boosters Outstanding Senior Athlete Scholarship | Mara Cvelbar |
| Aviator Sports Boosters Outstanding Senior Athlete Scholarship | Daijin "Duce" Johnson |
| Band Booster/Susie Robenstine Memorial Scholarship | Alexis Kelly |
| Band Booster/Susie Robenstine Memorial Scholarship | Mara Cvelbar |
| Bob Lee Wrestling Scholarship | Alex Leasure |
| Brenda L. and Jeronda B. Holloway Memorial Scholarship | Daijin "Duce" Johnson |
| Bryce Abraham Skidmore Memorial Scholarship | Braijon Clayton |
| Chris Court Social Studies Award | Mara Cvelbar |
| Clark Kennedy Scholarship | Madison Gasparik |
| Curvis F. Rhyne Scholarship | Tyler Williams |
| Curvis F. Rhyne Scholarship | Daijin "Duce" Johnson |
| David Webster Scholarship | Kiara Bennett |
| Elementary Schools Scholarship | Korryn Jackson |
| Elementary Schools Scholarship | Paige Vineyard |
| Elks Teen of the Year (Female) | Madison Gasparik |
| Elks Teen of the Year (Male) | Braijon Clayton |
| Elvin Wilson/Duke University Scholarship | Brendan McGeehen |
| Dorman-Baxter Scholarship | Mallory McCreedy |
| Harry Fails Scholarship | Braijon Clayton |
| Health Technologies | Morgan Davis |
| Investment in Alliance Award/Univ. of Mount Union | Kiara Bennett |
| Investment in Alliance Award/Univ. of Mount Union | Natalie Bert |
| Investment in Alliance Award/Univ. of Mount Union | Mara Cvelbar |
| Investment in Alliance Award/Univ. of Mount Union | Madalyn Waggoner |
| Investment in Alliance Award/Univ. of Mount Union | Madison Gasparik |
| Investment in Alliance Award/Univ. of Mount Union | Cortaise Rogers |
| Investment in Alliance Award/Univ. of Mount Union | Alexis Kelley |
| Investment in Alliance Award/Univ. of Mount Union | Alexis Orzo |
| Investment in Alliance Award/Univ. of Mount Union | Andrew McMillen |
| Ira G. Turpin Scholarship | Zaviona Fountain |
| Jeramy Keane Memorial Scholarship | Madalyn Waggoner |
| Jeramy Keane Memorial Scholarship | Daijin "Duce" Johnson |
| Joe Zelasko Scholarship | Howard Frazier |
| Joe Zelasko Scholarship | Brendan McGeehen |
| John Onaitis Memorial Scholarship | Korryn Jackson |
| John Onaitis Memorial Scholarship | Carolyn Garrison |
| Kimi Korleski Scholarship | Maggie Novak |
| Kiwanis Memorial Scholarship | Howard Douglas Frazier |
| Kiwanis Memorial Scholarship | Andrew Joseph McMillen |
| Kiwanis Memorial Scholarship | John Louis Recchiuti |
| Lions Club Scholarship | Mariah Stanish |
| Marathon Petroleum Company LP Scholarship | Kaitlyn Lambdin |
| Marc Anderson Memorial Scholarship | Carissa Haynes |
| Nancy Penny Memorial Scholarship | Howard Frazier |
| Nellie V. Visi Memorial Scholarship | Mallory Nicole McCreedy |
| Nellie V. Visi Memorial Scholarship | Joseph Marazza |
| Ohio National Guard Scholarship Program | Caleb Monk |
| Ohio National Guard Scholarship Program | Caleb Huff |
| Ohio National Guard Scholarship Program | Lena Deleon |
| Ohio National Guard Scholarship Program | Alex Kurpil |
| Ohio National Guard Scholarship Program | Noah Gehret |
| Ohio National Guard Scholarship Program | Raelene Valdez-Torress |
| Oliver Coxen Scholarship | Abby Moore |
| Oliver Coxen Scholarship | Maddalyn Waggoner |
| Oliver Coxen Scholarship | Phoebe Jackson |
| Outstanding French IV Award | Zavionna Fountain |
| Outstanding Spanish IV Award | Alexis Kelley |
| Red Cross 2018 Blood Drive Scholarship | Mackenzie Webb |
| Red Cross English Blood Drive Scholarship | Korryn Jackson |
| Robert Fryfogle Scholarship | Olivia Hart |
| Ronald and Erma Holloway Memorial Scholarship | Diamonique Colbert |
| Science Department Scholarship | Erika Shi |
| Science Department Scholarship | Sam Denny |
| Steve Gansel Service Award | Mara Cvelbar |
| Student Senate Scholarship | Riley Grisez |
| Student Senate Scholarship | Mara Cvelbar |
| Student Senate Scholarship | Phoebe Jackson |
| Student Senate Scholarship | Maggie Novak |
| Student Senate Scholarship | Maddie Waggoner |
| Tabernacle Baptist Church/Empowerment Center Scholarship | Kiara Bennett |
| Tabernacle Baptist Church/Empowerment Center Scholarship | Diamonique Colbert |
| Trinity Episcopal Church Scholarship | Zaviona Clinique Marie Fountain |
| Trinity Episcopal Church Vocational Scholarship | Korryn Jackson |
| YWCA Geography Bee Scholarship | Brendan McGeehan |
| YWCA Geography Bee Scholarship | Jack Recchiuti |