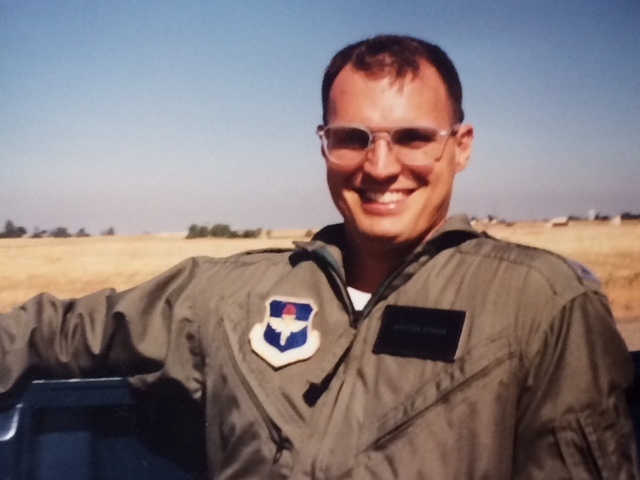 AHS grad leaves legacy of inspiration at AHS through scholarship
Chelsea Shar
Monday, May 21, 2018
Brett Streza was an athlete, an Alliance High School graduate of 1981, a hard-working father and husband, a police officer, United States Air Force Officer and Federal Bureau of Investigations Special Agent before his life ended at just 42 years old following his battle with cancer.
Many described Brett as a big-hearted young man who everyone liked. He poured his heart and soul into everything allowing, him to succeed in all he did.
"His work ethic and discipline was unbelievable which was the fuel to his success. How he treated the people around him was stunning - his compassion and character left an impact," Corey Streza, Brett's younger brother said.
His tenacity and determination were displayed when he went to Ohio University and was a walk-on to the track and field team. He accomplished very much as a pole vaulter he ended up earning himself and athletic scholarship his second year and becoming the team Captain his senior year. He ended his collegiate pole vaulting career by accomplishing the rare feat of clearing 17'3'', accomplishing "World Class Status" which qualified him for world class track meets around the world and the summer olympics.
Brett graduated from OU with a degree in criminal justice and became a Police Officer in Rocky River, Ohio. He became an officer in the US Air Force and served for ten years as a Navigator on a KC-135 air refueling craft. During that time he served in the Persian Gulf War and in numerous operations all over the world and was a member of the coveted "Silver Wings" group.
In 1999 he accomplished his dream of being accepted into the FBI.
"He was my mentor in many ways. I watched how hard he worked. He meant the world to me and inspired me to become a professional pilot, my chosen career for 20 plus years," said Corey.
Brett left behind a successful career in public service, a wife and two young daughters along with a community of friends and family who admired the person he was and the impact he left.
Following Brett's death in 2005 it was the response from all those impacted by him over the years that inspired Corey and several other friends and family of Brett's to create a legacy here in Alliance in Brett's name.
"After (Brett) passed so many people came up to me and told me something had to be said for his life. He did more in 42 years than many could in two lifetimes," Corey said.
His legacy lives on through a scholarship started 11 years ago. The Brett Streza Memorial
Scholarship awards one AHS graduate per year who, like Brett, excels on the athletic field and in the classroom.
Donations from friends and family started the fund along with earnings of the first Golf Scramble fund raising event played in Brett's name.
Within a year of coming up with the idea the funds had reached the $10,000 - amount that was needed for the Alliance Foundation to establish the scholarship. The scholarship has continued gaining donations and is now the fastest growing scholarship fund in the Alliance High School Foundation's scholarship list.
Fundraising success:
The golf scramble is the largest fundraiser to date which has enjoyed a constant increase of funds each year it existed.
Since the first scholarship was awarded in 2010 at least one AHS graduate has received the scholarship each year. As the fund has grown, so has the scholarship and the awarded amount each of the past 11 years.
Depending on the success of this year's fundraising events, the fund could award a second scholarship each year as well.
Brett's Legacy:
Through the scholarship, students who are similar to Brett in his discipline and drive, are rewarded. "The scholarship hits home each year when it is awarded to a deserving student such as this year's recipient Alex Leasure.
Alex played varsity football, competed at the state level in wrestling and excelled in the classroom.
Alex said it has taken a lot of determination to get through sports and academics and he is humbled to be compared to Brett and receive the scholarship.
"It's nice to have a goal to reach the levels Brett reached.
Alex will attend Ashland University and join the wrestling team. He will study education with a focus on special education.
"He is just the kind of student who Brett would have been happy to support, as well as many of our past scholarship recipients," Corey said.
"The whole goal of this was to give a scholarship away to someone that reflects Brett's qualities and to find these kids and help them succeed. It's a shadow of Brett and his impeccable character and heart."
To donate or get involved:
The Scholarship committee still relies on many of it's sponsors who have been loyal to donating since the beginning.
Roy Clunk of Roy's Car wash is one of those sponsors. Brett worked at Roy's for approximately ten months after college before joining the police force.
To donate to the Brett Streza Memorial Scholarship contact the Alliance Foundation by contacting the Foundation at info@ahsalumnifoundation.org. The golf scramble will take place this year on June 2. Buffalo Wild Wings will have a tent and prizes on the gold course. Raffles will be throughout the course as well as games and prizes. The $65 cost to participate includes the 18 holes of golf, your golf cart and meal.
Players will compete in teams of four at Tannenhauf Golf Club. The goal this year is to have 20 teams participate. For more information on how to donate or participate in the outing contact Doug Ray at 330-323-4468 or Chris Leasure at 330-936-2004.