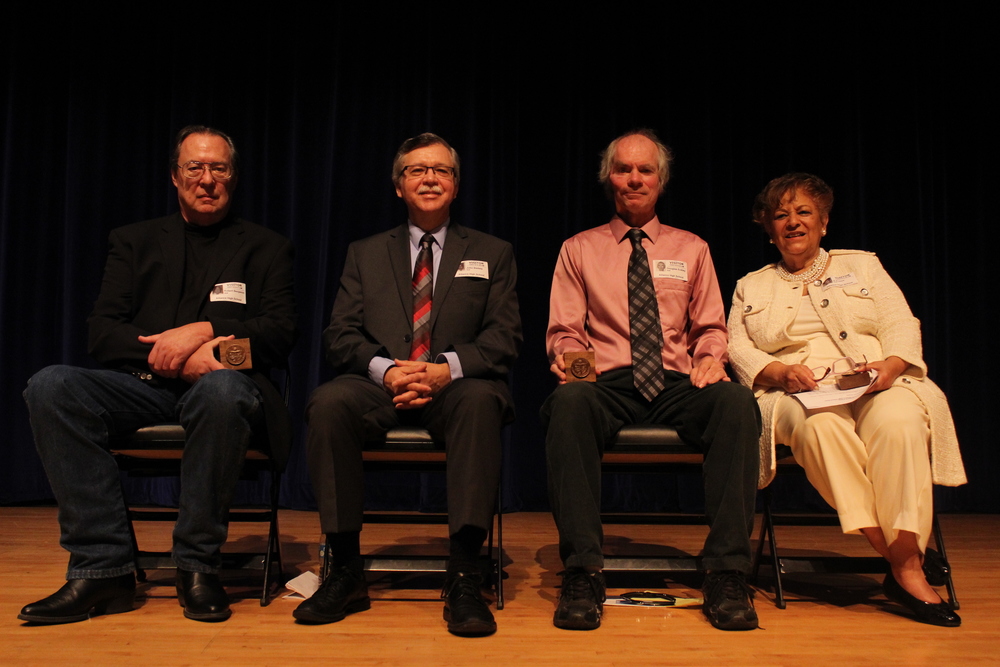 Four Honored as Distinguished Alumni
Cheyanne Gonzales
Thursday, October 04, 2018
100 Total Hold the Honor
At the Distinguished Alumni Ceremony held on Monday at Alliance High School, four men were added to the ranks of distinguished alumni, bringing the total to 100 inductees since the Distinguished Alumni Committee was founded in 1966.
"Before the committee meets and decides about this prestigious award, they repeatedly say that the inductees should be truly outstanding." said Shawn Jackson, principal of Alliance High School. "And after you hear about their accomplishments, I'm sure that you'll find these inductees outstanding individuals."
The four men chosen for this distinction were Robert L. Benjamin, John Blebea MD, the late Dr. Wilton Eckley and the late Ernest S. Prince.
"Your selection puts you among an elite group of Aviators." Jackson said. "Alliance graduates have been leaving their mark on our planet for over a hundred years, yet only 96 individuals have been ranked among the distinguished. Your names are going to be added to this list this morning, and I am honored to have this opportunity to celebrate this achievement with you."
The four graduates chosen to be inducted this year have diverse backgrounds and careers. Each one has shown themselves to be successful and outstanding individuals.
The ceremony was presented by the Honorable Judge Robert Lavery, an honored Distinguished Alumni and proud graduate of Alliance High School.
Benjamin was the first to be honored during the ceremony. An artist who found his life's passion painting New Mexico's landscapes, Benjamin has had his work shown in a number of museums and galleries. In 2001, he held the distinct honor of being named the Distinguished Calendar Artist for"New Mexico Magazine" and having 12 of his paintings published.
"Right now this is pretty overwhelming for me," said the 1969 graduate. "I'm typically a pretty private person."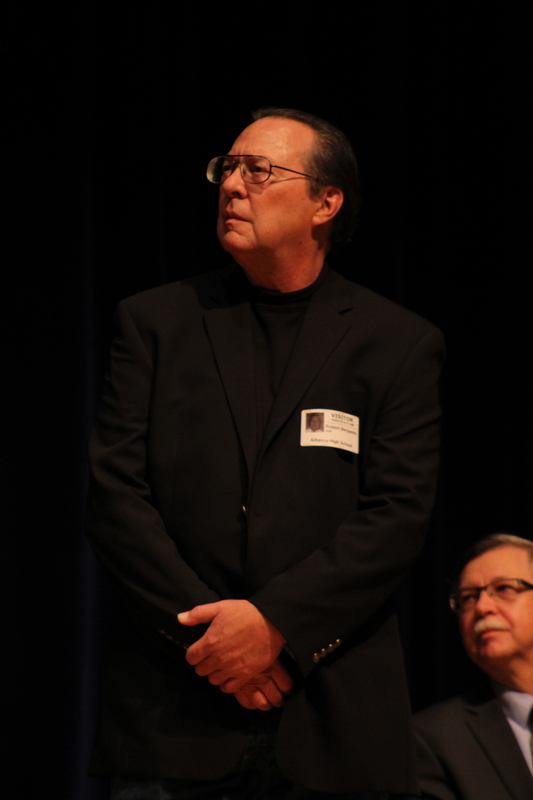 Benjamin showed the audience some of his paintings and even took the time to visit a couple of the art classes later in the day to answer a few of their questions.
Blebea was the next to be honored. The 1974 graduate has dedicated his life to medicine. After graduating from Alliance, he attended Brown University. He attended Case Western Reserve University in Cleveland before completing his internship and residency at Georgetown University Hospital.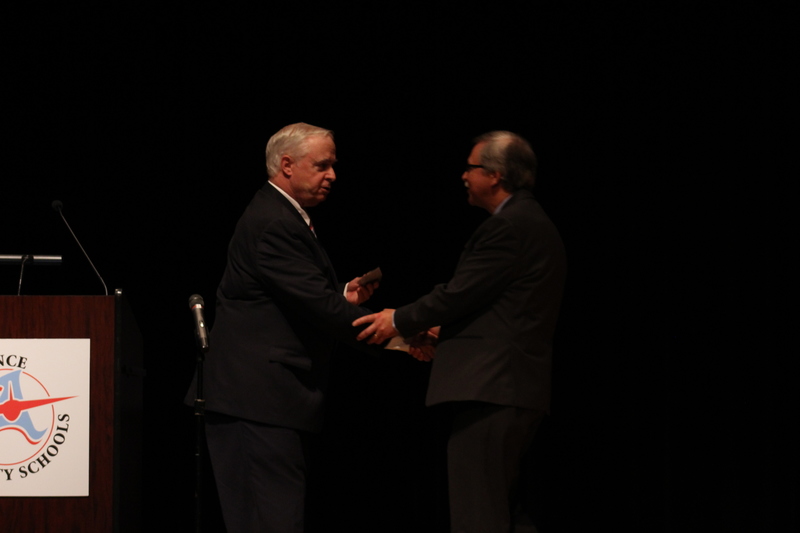 Blebea has taught medicine at a number of universities and colleges and holds the honor of being the president of the American Venous Forum, the most prestigious society for the area of venous disorders in the world.
"All of you can be successful," Blebea encouraged the students in the audience. "Each and everyone of you should be successful in your personal life and in your career."
Eckley's honor was accepted on behalf of his son, Doug Eckley. He was a gifted trumpet player and continued to hold his passion for music throughout his lifetime. While in high school, Eckley would often be called out of class to play Taps for various memorial services around Alliance.
The 1947 graduate went on to earn a degree from Mount Union College, a Master's degree from Pennsylvania State University and a Ph.D. from Case Western University. He was a well respected educator throughout his life and retired in 1999 from the Colorado School of Mines in Colorado.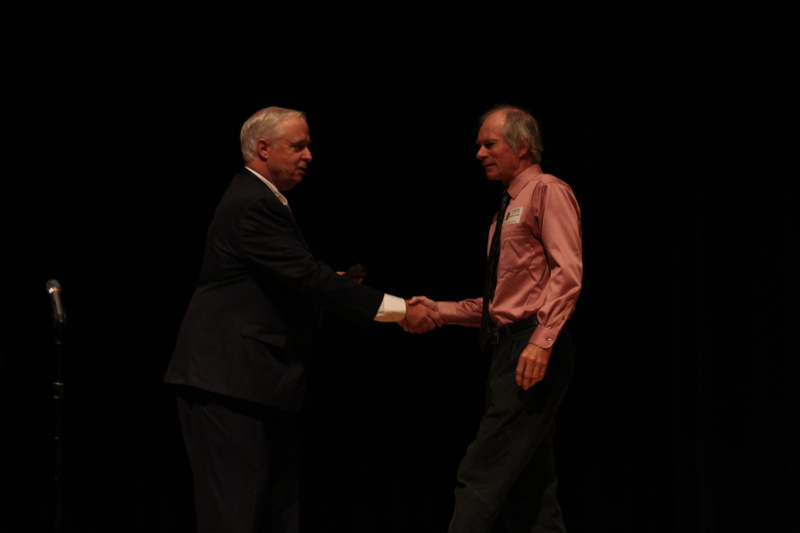 While accepting the award on behalf of his father, Doug recalled stories about his father, including some from his time as a student at AHS.
"He always maintained his pride in his roots from back here in Alliance and Alliance High School," Doug said.
Cheryl Prince accepted the honor on behalf of her late husband.
"We are very proud to be here," she said. "Service, responsibility, dignity- these words are just a few of the words that helped to describe Ernest Prince."
Prince was an excellent football and basketball player while in high school and the 1960 senior class president. He went on to graduate with a degree in history from Baldwin Wallace University. Shortly after graduating, he began his career with the Urban League, a National Civil Rights organization which advocated on behalf of African Americans.
Prince had a passion for social justice and spent his life advocating on behalf of African Americans. His career was a long one and even led him to be named the first CEO of the Shenango Valley Urban League. He never forgot where he came from, though.
"He was a proud alumni of Alliance HIgh School," Cheryl said.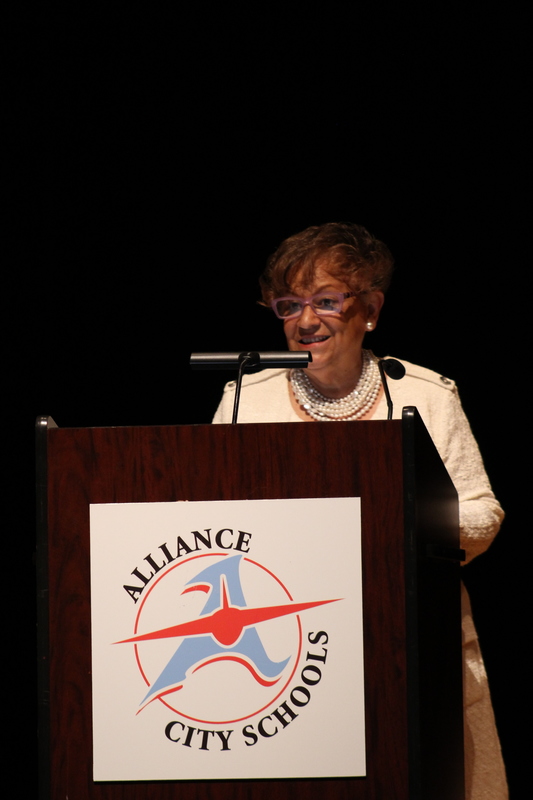 The ceremony was held during the day to allow all students to see that they too can succeed as the hundred distinguished alumni inductees have.
"What I want you to know," Jackson said. "Is that when you are an Aviator, the sky's the limit."