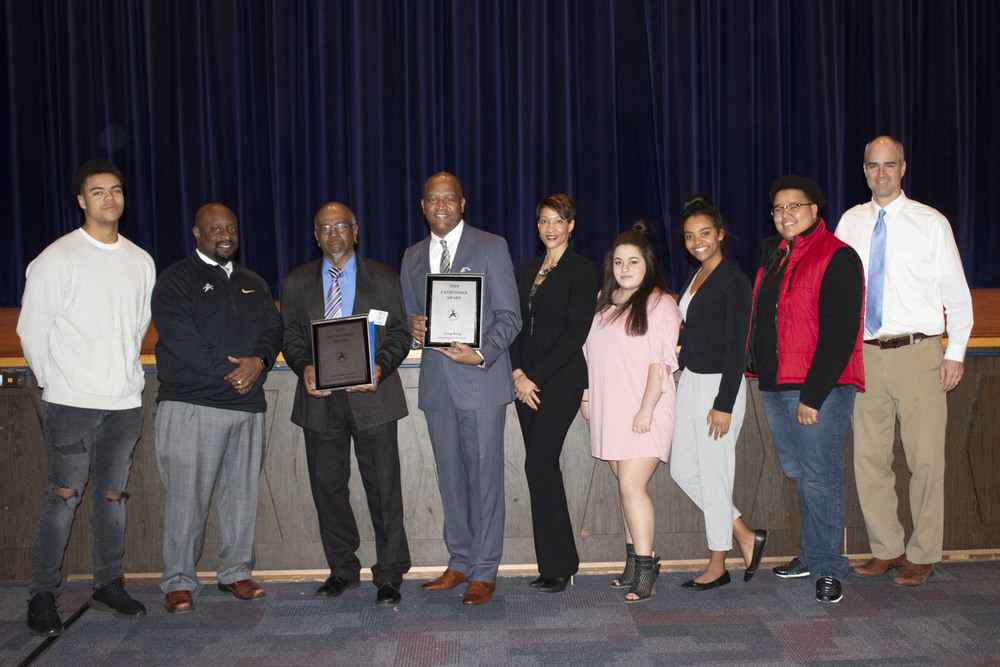 Scott, King Recognized as Pathfinder Recipients
Cheyanne Gonzales
Thursday, February 21, 2019
Lorenzo Scott and Greg King were recognized as 2019 Pathfinder Award recipients during the assembly held at Alliance High School on Feb. 8.
The second Pathfinder Award assembly began with senior Dynasty Ford presenting the history of the Pathfinder Awards. The Pathfinder Award assemblies were created in 2017 to recognize men and women who have served as inspirations within the community.
The first to be recognized as a Pathfinder Award recipient was Lorenzo Scott. He was presented with the Humanitarianism and Arts Pathfinder Award by junior Nick Oldfield.
Scott was born in Wilmington, North Carolina. He moved to Pittsburgh where he graduated from Fifth Avenue High School, after which he joined the Army and became a Green Beret. When his time in the Army ended, he was a member of the Six Special Forces Airborne located in Fort Bragg, North Carolina.
Scott moved to Alliance and began working for Alliance Manufacturing, which later became the Genie Company. He worked there of 44 years and retired as a senior production engineer. Over the years, Scott has coached the Little Aviators and Hot Stove League. He has always loved boxing and took his passion for it to create the United Karate and Boxing Club.
He had a few words of wisdom to share with the students at AHS:
"Respect yourself- others- trust in what you can do," Scott said. "Learn from what you can't. Trust in God. Again, thank you, enjoy your life and remember education is the most important vehicle you can have. The journey that you are traveling now is the start of the journey for the rest of your life. If you ever feel you need help, a friend, remember- my name is Loren Scott."
King was presented with the Education and Business Pathfinder Award by Daymion DePrill.
King received a Bachelor of Arts in Business Management and Sports Management from Mount Union College and a Master of Education in Higher Education Administration from Kent State University.
He began working at Mount Union in 1990 as an admissions counselor and worked his way up to director of admissions and later vice president of university advancement, which is his current position at Mount Union. In his time working for the university, he has received the Mount Union College Martin Luther King, Jr. Award and the Stark County Trailblazer Award.
King spoke about the importance of staying positive and surrounding yourself with the right people who will help you succeed in life.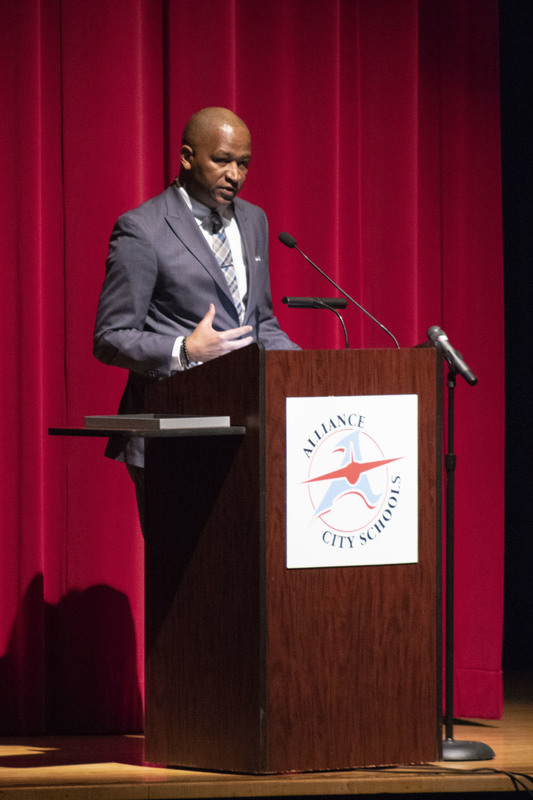 "It is critically, critically important that you surround yourself with people who are positive," King said. "People who are going to inspire you and encourage you to do more than what you think you might be able to do. Please limit the number of naysayers and the negative thinkers who are in your circle. Those people zap your energy and bring you down."
Following the presentation of the awards, Corey Minor Smith presented the keynote address centered around overcoming obstacles. Minor, the first African American to be elected city-wide in Canton as the Canton City Council-At-Large, has had her share of obstacles to overcome. She lived in eight households in three different states and attended 14 different schools until she graduated from Timken High School.
Smith received a Bachelor of Arts in English and a Master of Education in Guidance Counseling from Bowling Green State University. She earned her Juris Doctorate from the University of Toledo College of Law. She began her law career as an assistant prosecutor. Currently, she serves as general counsel for Stark Metropolitan Housing Authority, where she represents them in civil and administrative proceedings and provides legal guidance.
Smith began her speech by asking about Black History Month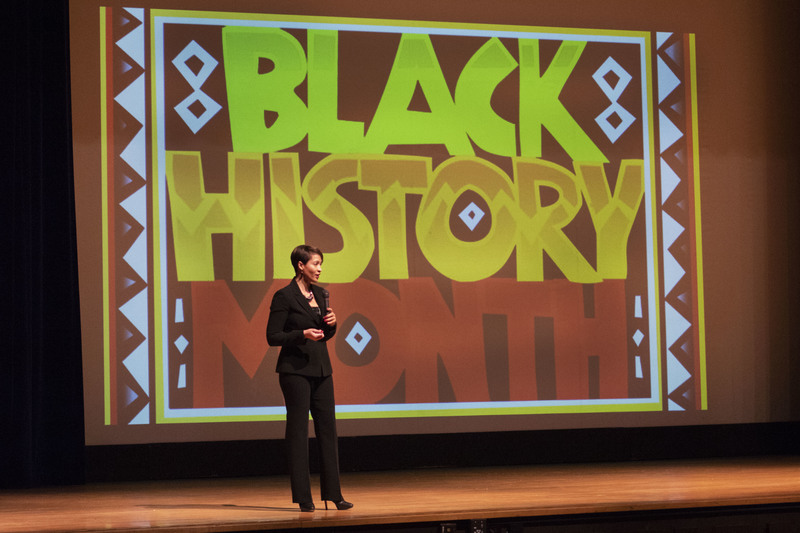 "Why do we celebrate Black History Month?" Smith asked the audience. "Because many times it's not incorporated into our school's curriculum. Sometimes it's not included in American History. When I lived in Houston, Texas, the only thing we learned about of African Americans was slavery, and that was at the end of the school year because it was at the end of the book, and I protested about that."
She considers this her first protest. She didn't think it was fair she wasn't able to learn about her history. Smith asked why black history is designated to just one month, why not make it part of everyday life.
"Now we celebrate throughout the whole month," Smith said. "And what I encourage people is to hashtag 365 and make black history a part of our lives everyday."
She explained the history of Black History Month, which was previously only celebrated for one week. February was chosen as Black History Month to honor Frederick Douglass and Abraham Lincoln, who both had birthdays in February and who both fought to abolish slavery and supported equality.
Growing up, the odds were stacked against her. She grew up in what she calls community care, bouncing around from household to household.
"Like I said, I lived in eight different households," Smith said. "I wasn't in foster care, but I grew up in community care. Community care because there were individuals that took me in that surely did not have to. They weren't getting child support or any support at all, but they were willing to take me in."
When she was younger, she only cared about getting into group fights, attempting to steal cars and trying to sell drugs. Those mistakes early in her life did not define how successful she would be in the future. What did was her decision to succeed.
"It doesn't mean you can't make the choices to have a better future," Smith said. "To be the first in your household, perhaps, to go to college or be the first in your household to be involved in different trades. You have the opportunity, right now to make choices and decisions in your life, and you can be the first."
Smith encouraged the students to reach their goals and to work hard to the achieve them. She told them to expect obstacles, but to know they are strong enough to overcome them and to be successful in life.
"Success does not include a straight line," she said. "Success is a bunch of swirls and backs and getting back to the start."
The five principles she has found that lead to success are faith, determination, motivation, preparation and action. Those principles are what have helped her to be successful in life and achieve all she has set out to.