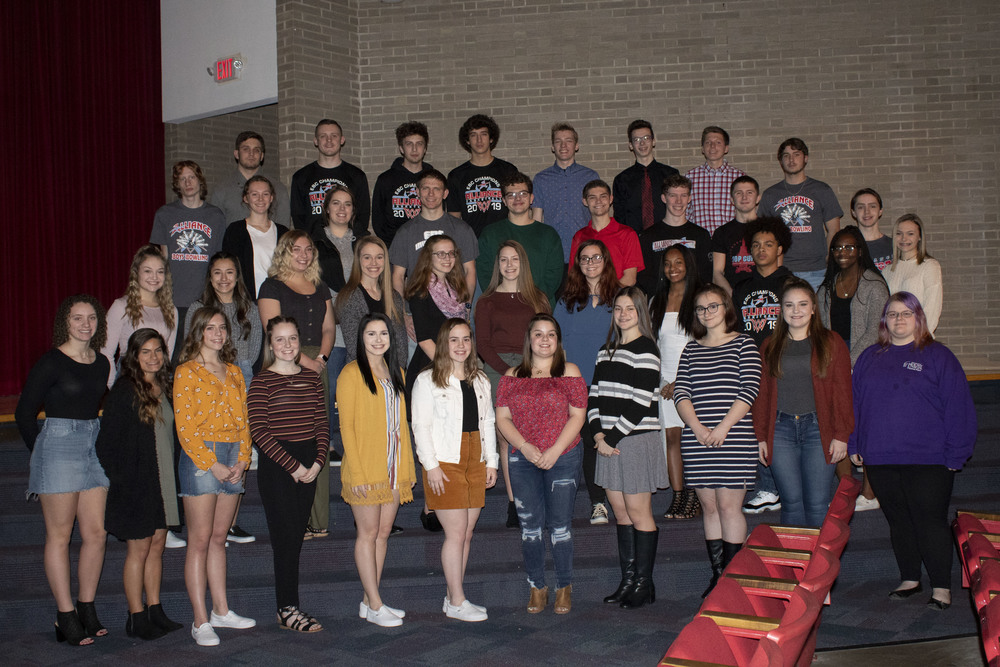 Athletes Recognized for Accomplishments
By CELINE MONASTRA Red and Blue Staff Writer
Thursday, March 21, 2019
Members of the Alliance High boys' bowling and boys' basketball Eastern Buckeye Conference championship teams were among the 108 athletes recognized at the annual Winter Athletic Awards Night on Wednesday, Mar. 13.
AHS also had a two-time state champion Will Rose, who won the 100 butterfly and 100 freestyle events in the Division II finals.
On behalf of the Alliance Athletic Department and Alliance Sports Booster Club, Athletic Director Mike Schott thanked everyone for their donations and help in making the sports season possible.
He also talked about the success of the winter sports season.
"We had a great winter season, a lot of team championships, individual championships and coaches being recognized as well," he said.
The EBC first-team honorees include Demarko Brooks, boys' basketball; Sean Kelly, Justin Stout and Richard Elliott, boys' bowling, and Brailyn Lightner and Zach Rodgers, wrestling.
The EBC second-team honorees were Trevor Strata, boys' basketball; Siearra Nagle, girls' bowling, and Alex Bailey, Logan Bell and Joe Pennington, wrestling.
Scholar Athletes who earned a varsity letter and had a 3.4 GPA or higher in the most recent term were Logan Bell, Megan Brooks, Patrick Burse, Cameron Cox, Nicole Cox, Lizzy Davidson, Marion Davidson, Valencia Davis, Emma DeLeon, Leeah Dulaney, Richard Elliott, Kemarie Evans, Kyleigh Ferrall, Mackenzie Fletcher, Tommy Gress, Reese Grisez, Ke'Aijah Hawkins-Montgomery, DeSean Hollins, Emma Huff, Gus Jackson, Kylie King, Jordan Kress, Dakota Markland, Maliki Mason, Ryan McKnight, Siearra Nagle, Abby Oyster, Joe Pennington, Jack Penturf, Sydney Peterson, Julia Schwartz, Michael Shields, Lauren Snyder, Seth Stevens, Trevor Strata, Allison Waggoner, Alyssa White, Molly Wright and Anthony Zumbar.