Middle School can be a wonderful three years as we watch our children transition into young adolescents. Yet for some, these years can be challenging and difficult to say the least. Alliance Middle School strives to provide a dynamic learning environment and a welcoming social atmosphere for all of our students.
We want our students' experiences to be positive, engaging, and enjoyable. I was never a big follower of the cartoon character Winnie the Pooh and perhaps many aren't even aware of who he is. But, I came across a quote attributed to Winnie the Pooh.
"We didn't realize we were making memories, we just thought we were having fun."
It made me laugh and think about many wonderful memories and experiences that I had during my school years. It is our hope at Alliance Middle School that every one of our students has fun while learning and leaves AMS with fond memories of the time spent in our building. Our staff will continue to work diligently to provide each and every student with the opportunity to achieve their very best and leave AMS with positive memories.
Go Aviators!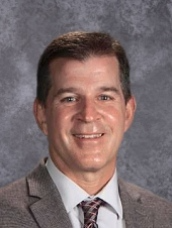 Brian Reed, AMS Principal